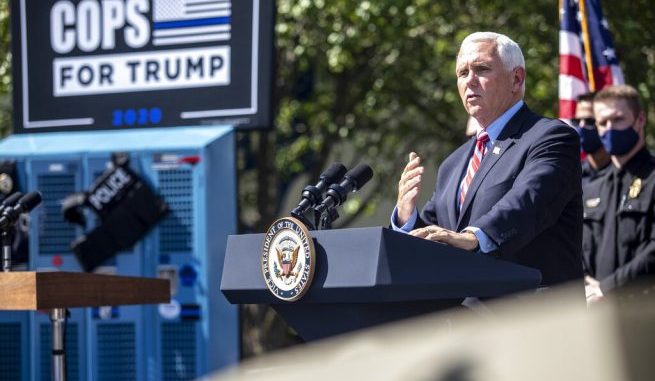 OAN Newsroom
UPDATED 9:47 AM PT – Friday, September 4, 2020
The vice president promised to stand on the side of law and order while pledging the Trump administration's continued support for law enforcement in their mission to keep all Americans safe.
That was the main message of Mike Pence's speech Thursday in Cary, North Carolina during which the vice president accepted the official endorsement of President Trump's campaign by the Southern States Police Benevolent Association.
"I want to thank you all for being here, I especially want to thank the "Cops For Trump" that are with us here today," he stated. "I'm here for one reason and one reason only, and that is that North Carolina and America need four more years of President Trump in the White House."
Pence had harsh words for the Democrat nominee as he spotlighted what he characterized as Joe Biden's mixed message on the subject of violence currently gripping the nation. According to the vice president, Biden has claimed to condemn violence of all forms and then failed to take a resolute stand against those inflicting the violence.
Pence also noted that Biden even stood by as his running mate Kamala Harris raised money to help bail out instigators of riots and looting. He contrasted to the Trump administration's stand, which he said is firmly on the side of orderly legal protests, but will always stand against inflicting harm on innocent people and their property.
"And like all of you in this freedom-loving state, President Trump and I will always stand for the right of all Americans to peaceful protest, but rioting and looting is not peaceful protest," he stated. "Burning businesses is not free speech, harming innocent civilians and law enforcement is not how Americans express sentiment."
The vice president stated four more years of President Trump's leadership would see the administration continue to crack down on criminal acts and the prosecution of those that perpetrate them.
"Too many heroes have died defending our freedom for us to allow Americans to strike down each other in our streets," said Pence. "We will have law and order in every city in this nation, and we will restore law and order for every American of every race and creed and color, so help us God."
Vice President @Mike_Pence: What brought me here today was just to say "thank you" to the men and women who put their lives on the line every day pic.twitter.com/2XAnH1YLxv

— Team Trump (Text VOTE to 88022) (@TeamTrump) September 3, 2020