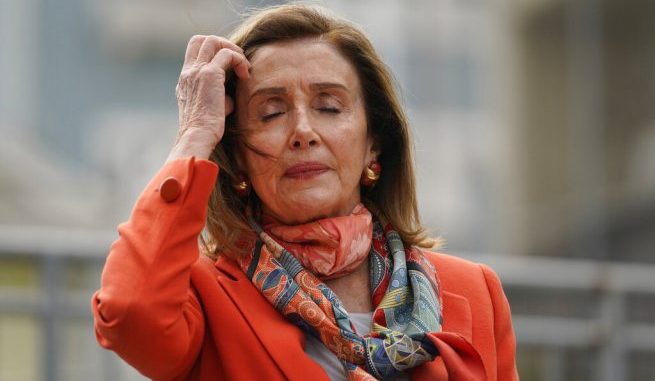 OAN Newsroom
UPDATED 8:02 AM PT – Friday, September 4, 2020
Protesters rallied at the home of House Speaker Nancy Pelosi, following backlash over her recent visit to a San Francisco hair salon. On Thursday, more than a dozen women showed up outside Pelosi's Pacific Heights mansion wearing smocks and hair curlers.
According to reports, the crowd made noise for more than 30-minutes and hung hair-dryers from a nearby tree. This came in protest of the video of an unmasked Pelosi walking through a salon with wet hair.
The official remarks from the demonstration are over, now the group is split in two discussing their opinions of Nancy Pelosi and the salon video situation @sfchronicle pic.twitter.com/F1SBZv5Dt3

— Jessica Christian (@jachristian) September 3, 2020
White House Press Secretary Kayleigh McEnany recently slammed Pelosi for the incident.
"Apparently the rules do not apply to Speaker Nancy Pelosi…she wants small businesses to stay shutdown, but only reopen for her convenience," stated the secretary. "Do as I say not as I do, says Nancy Pelosi."
Pelosi has not yet responded to McEnany's comments. The House speaker has also been criticized for claiming she was the victim of a politically motivated set-up after shifting blame to the salon.
.@PressSec Kayleigh McEnany: "We found Nancy Pelosi going into her hair salon. We will be playing the video on loop for all of you to see during the duration of this introduction…Apparently the rules do not apply to Speaker Nancy Pelosi."

Full video: https://t.co/6bTwrMa5OG pic.twitter.com/rfDCWOCPpV

— CSPAN (@cspan) September 3, 2020