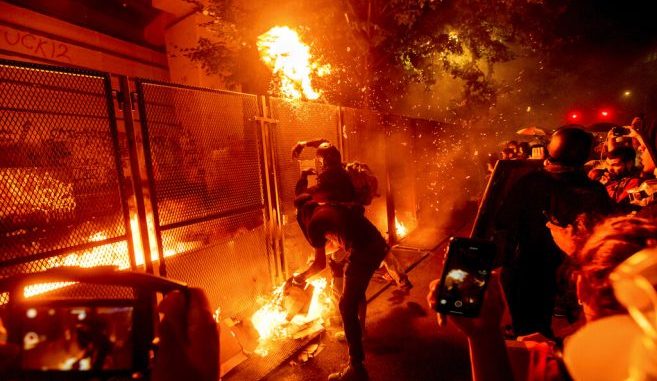 OAN Newsroom
UPDATED 5:05 PM PT — Friday, July 24, 2020
The Department of Justice has arrested 18 rioters in Portland, Oregon. On Friday, Attorney General William Barr charged the 18 individuals with federal crimes, including assault on a federal officer, arson, property damage and trespassing.
The video below could be considered graphic.
Rioters in Portland carried out heinous acts of violence tonight. They were proudly encouraged by #portlandmoms In the video below they attacked a federal officer after they tried to breach a federal courthouse. pic.twitter.com/lJ2oOo0etY

— cacti (@SCCacti) July 21, 2020
Riots and unrest have plagued the city for more than 50 days, specifically near the Hatfield Courthouse.
These new arrests were part of the White House's effort to restore peace across the nation.
"These are not the actions of so-called peaceful protesters. The Trump administration will not stand by and allow anarchy in our streets. Law and order will prevail." – Kayleigh McEnany, White House Press Secretary
Portland's Democrat leaders want law enforcement—not crime—off their streets because they are unwilling to admit that they have lost control of their city.

"President Trump will not give the violence a pass." pic.twitter.com/DIWJSNL18k

— The White House (@WhiteHouse) July 21, 2020
The Justice Department confirmed all 18 individuals were released after their first court hearing and are expected to appear at future trial proceedings.
The press secretary also responded to scrutiny over the president's deployment of federal agents across the nation.
When asked if the president thinks he has authority to send Homeland Security agents anywhere in the country he pleases, she clarified that the DHS's work in Portland was separate from the DOJ deploying extra law enforcement through "Operation Legend."
"There's Operation Legend, which is primarily lead by DOJ. That's just providing extra FBI, ATF and DEA agents to already existing places, just surging extra personnel in places that are out of control like Chicago, for instance. Separate and distinct from Portland, which is DHS." – Kayleigh McEnany, White House Press Secretary
McEnany went on to say the acting Homeland Security secretary is overseeing the deployment of agents. She reiterated his officers are "acting within the bounds of the law."