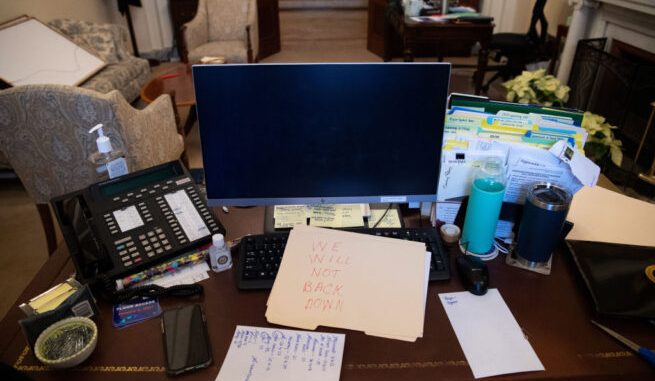 OAN Newsroom
UPDATED 6:40 PM PT – Friday, January 8, 2021
According to reports, House Speaker Nancy Pelosi's laptop was stolen during the protests that transpired on Capitol Hill Wednesday.
On Friday, one of Pelosi's aides reportedly told 'Reuters' the laptop belonged to a conference room and was used by Pelosi for presentations. Her aide offered no further details on the computer.
Officials have not stated if they know who took it.
CONGRESSIONAL AIDE TO SPEAKER PELOSI SAYS LAPTOP WAS STOLEN FROM HER OFFICE IN STORMING OF CAPITOL WEDNESDAY @Reuters

— Heather Timmons (@HeathaT) January 8, 2021
Meanwhile, a West Virginia lawmaker is facing federal charges in connection with the protest at the Capitol. On Friday, the U.S. Attorney's Office announced Delegate Derricks Evans was being charged with entering a restricted area.
Reports said the legislator live-streamed a video of himself storming the U.S. Capitol, but has since deleted the footage from his Facebook page.
Evans claimed he was only there to film history and did not have any negative interaction with law enforcement or participate in any destruction. Evans case is one of the dozens of cases the U.S. Attorney's Office is pursuing following the demonstration.