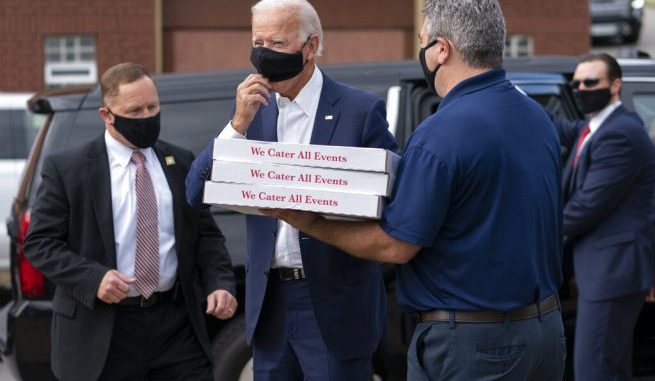 OAN Newsroom
UPDATED 8:04 AM PT – Tuesday, September 1, 2020
A new video shows Joe Biden getting heckled at his photo-op in Pittsburgh, Pennsylvania.
On Monday, the Biden team staged a photo shoot with the former vice president's supporters, which included pictures of Biden "delivering pizza" to firefighters.
However, a group of Pittsburgh residents challenged Biden by saying he "finally got out of his basement." They also reminded Biden of his flip-flop on fracking and corruption schemes in foreign countries.
#Biden was being heckled by a #TrumpSupporters as he arrived to deliver pizzas to firefighters in #Pittsburgh. The man was waving a Trump flag as he stood on top of a truck. Biden's response to him: "Don't jump."

Video – @tylerpager pic.twitter.com/ZeJqowUzfE

— The Bulletin Planet (@Bulletin_Planet) August 31, 2020
This latest incident comes as the Biden campaign has taken a hit in nationwide polls in recent weeks.