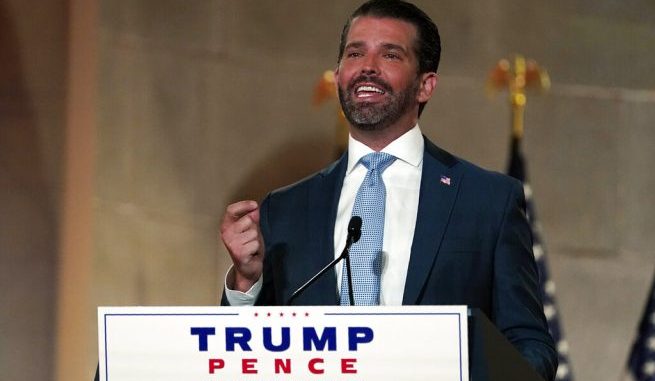 OAN Newsroom
UPDATED 6:30 PM PT – Wednesday, August 26, 2020
Donald Trump Jr. recently criticized the ever-changing "woke and cancel culture," which he believes produces hatred, division and political intolerance.
"You must be political, but obviously you can be only one way," he said. "If you're not woke, you're cancelled, if you're not woke enough, you're cancelled."
On Wednesday, the Trump Organization executive claimed far-left Democrats have overplayed their "woke narratives" and suggested reasonable people are walking away.
According to Don. Jr, the Democrat Party has employed so many double standards that it is now morally bankrupt.
"You know, the Democrats are the supposed party of tolerance. Not so tolerant, unless you buy into 100% of their party line. Stray even a little bit, that is a cancellable offense. Being apolitical today, according to the left, is a cancellable offense. …If you don't adjust to the never ending movement of the goal posts, because what's woke today is alt-right tomorrow, you're cancelled."
– Donald Trump Jr., Executive of the Trump Organization
He went on to say the latest political polls are inaccurate due to the hatred and fear imposed by "cancel culture."