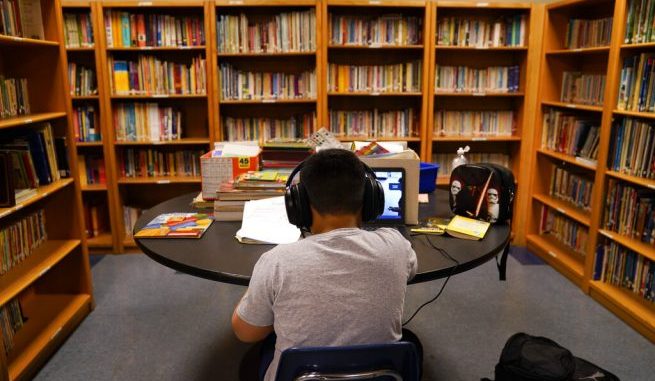 OAN Newsroom
UPDATED 4:40 PM PT – Wednesday, August 26, 2020
The first week of school has begun for a majority of students around the country. Students living in areas that have eased coronavirus restrictions will be allowed to learn in classrooms, while others will need computers in order to participate in online learning.
While online learning can keep students socially distant, some parents have expressed concerns over the real effectiveness of the practice.
One parent from Georgia shared a photo of her kindergartner on his first day of remote learning. In the photo, which went viral on Facebook, he appeared beyond frustrated while trying to learn online.
"I just took that picture because I wanted people to see reality. Then he came over, we hugged, and I was crying right along with him. Getting 5,000 emails a day from all their teachers, trying to keep up different apps, different codes, different platforms. Some links don't work. You're running from one laptop to another." – Jana Coombs, parent
A recent poll, which surveyed just over 1,000 adults, found only 32% of parents are "completely satisfied" with their children's education amid the pandemic.
Additionally, teachers have also complained that technical issues, such as inadequate internet service, and the lack of proper equipment have caused major problems for their students.
"I have a couple of students who, on a daily basis, their video isn't fully functioning," explained teacher Patrick Bernhardt. "They're present and I can talk with them through the video conference, but sometimes their video won't work."
In California, 90% of the student population will be forced to take remote classes, with a majority of schools being in counties under the state's coronavirus watch list.
One student in California has said she faces multiple distractions while attempting to learn from home.
"It's kind of hard because they're always playing around," stated student Keilly Flores. "So then, like, if I have a class, I have to at least tell them to go to another room so I could pay attention."
A group of California parents has filed a lawsuit against Governor Gavin Newsom's watch list. They are hoping to let children in those counties join in-person classes.
While recently visiting a Georgia high school, Education Secretary Betsy DeVos urged for in-person learning while expressing everyone's right to choose.
"President Trump and I are really committed to the fact that kids need to be back to learning fulltime. But don't mistake learning full time for suggesting that every single student needs to be 100% in person in school. We need to give families choices and students choices." – Betsy DeVos, Secretary of Education