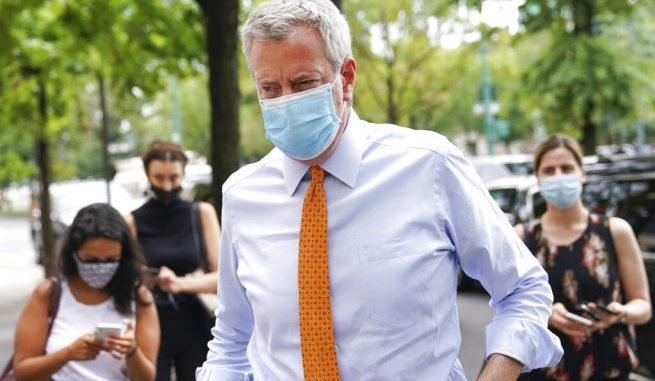 OAN Newsroom
UPDATED 11:15 AM PT – Sunday, August 23, 2020
Hundreds of residents in New York City have called for Mayor Bill de Blasio to step down. "Save Our City" demonstrations took place outside of City Hall on Saturday, where some 300 protesters gathered to speak out against the mayor's actions during his time in office.
Several key speakers made appearances, including the Police Benevolence Association Vice President Vinny Vallelong and Assemblywoman Nicole Malliotakis.
According to Vallelong, de Blasio has gone through three police commissioners, while murders, burglaries and instances of grand larceny have skyrocketed in the area. He claimed the mayor still has failed to take any effective action.
Meanwhile, Malliotakis alleged the city is being torn apart both by de Blasio's actions and his lack thereof.
"It breaks my heart to see what our mayor is doing on every front," she said. "He puts more and more money into the budget, he raises your property taxes, and yet, everything is getting worse."
She went on to slam the mayor's inaction on reopening restaurants and other businesses, which she called an attack on America's values.
"The anarchy, the lawlessness, the attacks on job creators: this is an attempt to bring socialism to our nation," added Malliotakis. "We reject it."
Mayor Bill de Blasio has stated there will be no deadline for reopening businesses, such as indoor dining, until the city sees major improvements.
His comments came after New York City restaurant owners demanded the city reopen in-person dining to keep businesses afloat.