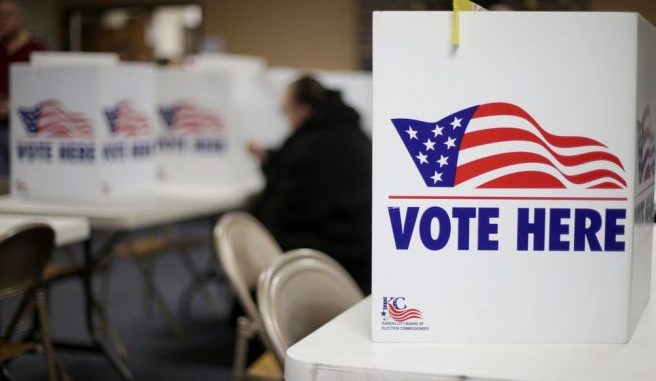 OAN Newsroom
UPDATED 11:50 AM PT – Sunday, August 23, 2020
According to acting DHS Secretary Chad Wolf, his department does not have the authority to oversee polling locations this November. On Sunday, he asserted that is not what the Department of Homeland Security was made for.
This came after President Trump announced he is planning to send federal law enforcement and sheriffs to polling stations on Election Day to prevent voter fraud.
Despite this, the secretary stated the president has not talked to him about the matter himself. He went on to say his department has other matters to tend to.
"That's not what we do at the Department of Homeland Security. We have law enforcement authorities and officers at the department. We have expressive authorities given to us by Congress, and this is not one of them. We do a lot of protection across the country through a lot of different circumstances, including Portland and number of other cities around the country. This is not a mission for the Department of Homeland Security." – Chad Wolf, Acting Secretary of Homeland Security
The DHS official added he has not seen any intelligence to convince him there is a foreign threat to election infrastructure or mail-in ballot fraud.
Earlier the same day, Wolf defended his position as acting secretary of Homeland Security. This followed the release of a watchdog report, which suggested his appointment was illegal.
The Government Accountability Office (GAO) has claimed Wolf's position was invalid and alleged the DHS used the wrong line of succession.
According to the secretary, all the proper avenues to select a successor were followed. Wolf claimed the GAO has no authority regarding the matter and reiterated the DHS vehemently disagrees with the report.
"The Homeland Security Act gives the secretary of Homeland Security discreet and brought discretion, exclusive authority to appoint his or her successor. So Secretary Nielsen, as you mentioned, did that in three different ways. She amended the order of succession, sent out an employee message to over 250,000 employees of the Department of Homeland Security indicating that Kevin McAleenan would succeed her. Then she swore in Kevin McAleenan." – Chad Wolf, Acting Secretary of Homeland Security
Moving forward, the GAO will refer the issue to the DHS inspector general and Congress, who could attempt to force his removal.