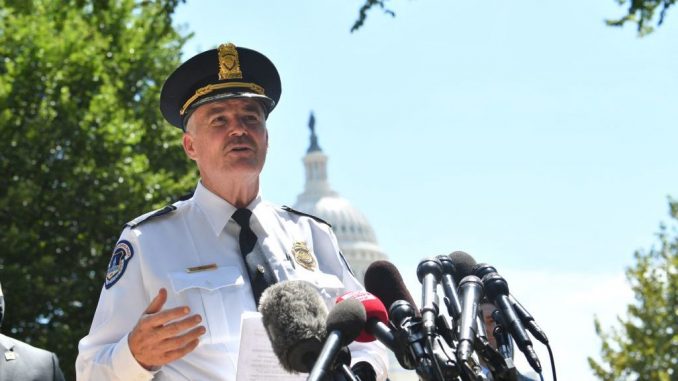 OAN Newsroom
UPDATED 10:29 AM PT – Monday, January 3, 2022
Chief of U.S. Capitol Police, Thomas Manger said the force continues to face staffing shortages. During an interview Sunday, he said more than 130 officers have left the organization either through retirement or resignation since January 6.
"When we look at the events of the 6th and we saw that operational planning failed, there were intelligence failures, those things have been addressed, those things have been largely fixed at this point," Chief Manger stated. "The one thing that we have not been able to fix, so to speak, are the staffing issues."
A COVID shutdown at the National Federal Law Enforcement Training Academy in 2020 resulted in fewer trainees and the police chief also noted an increase in threats against Congress.
"We've had to really shift the focus of just doing the typical job that we would do normally and put more resources toward investigating those complaints," Chief Manger continued. "Ensuring that members of Congress are safe, not only when they are at the Capitol, but when they are traveling within their home districts as well."
The Capitol Police Chief said the force is about 400 officers short of where they need to be, adding it's a critical issue. He assured a long-term plan for this fiscal year is in store to put more than 280 officers through the academy.
Still, he said the fact that Capitol Police now have the authority to call the National Guard out in case of an emergency is a big improvement and will be beneficial. He added, it would have been able to prevent something like January 6 from happening.