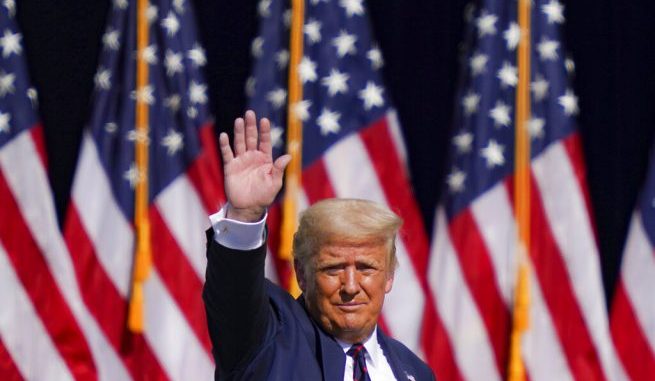 OAN Newsroom
UPDATED 1:20 PM PT – Sunday, August 23, 2020
Republicans are gearing up for this year's Republican National Convention following the Democrats' dismal national convention last week. The theme for the convention, which is set to begin on Monday, August 24th, is "Honoring the Great American Story."
The RNC will be largely virtual due to the ongoing pandemic. No more than 336 delegates will meet in-person in Charlotte, North Carolina to formally nominate President Trump.
The convention will feature several prominent speakers, including Donald Trump Jr., Secretary of State Mike Pompeo, and Senate Majority Leader Mitch McConnell. Members of President Trump's family will also deliver remarks.
RNC speakers announced! ???
Also confirmed this morning: President @realDonaldTrump will be making an appearance each night of the convention, according to Trump Campaign Sr. Advisor @JasonMillerinDC. pic.twitter.com/iQzvnrlgk2

— Jenn Pellegrino OAN ?? (@JennPellegrino) August 23, 2020
The first night of the convention will focus on America as the "Land of Promise." On Monday, delegates will meet to officially nominate President Trump and Mike Pence.
On Tuesday, the theme will be the "Land of Opportunity." First Lady Melania Trump is slated to speak from the Rose Garden, along with her and President Trump's adult children.
Wednesday's theme will be the "Land of Heroes." Vice President Mike Pence will deliver a speech from Fort McHenry in Baltimore.
The final day of the convention will be about the "Land of Greatness."
President Trump has confirmed he will be giving his acceptance speech for the Republican presidential nomination at the White House after his daughter Ivanka Trump introduces him.
He has invited the majority of Republican Congress members to attend the event.
Watch the 2020 Republican National Convention on One America News! OAN will have live, special coverage with Alex Salvi, Greta Wall and Patrick Hussion, starting Monday at 8:45 p.m. ET/ 5:45 p.m. PT.