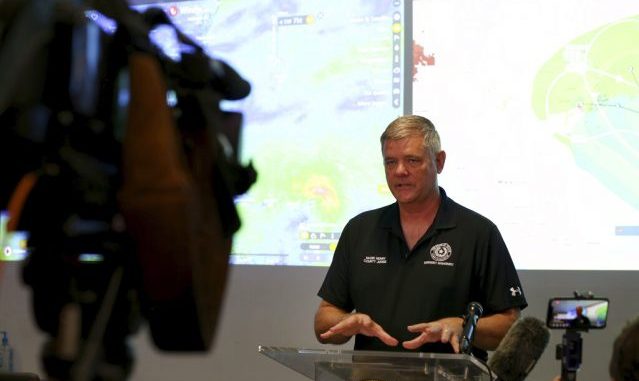 OAN Newsroom
UPDATED 2:15 PM PT – Sunday, August 23, 2020
President Trump issued an emergency disaster declaration for Louisiana as Hurricane Marco and Tropical Storm Laura approached the U.S. coast. The president approved the declaration on Sunday, which will authorize FEMA and the Department of Homeland Security to coordinate relief efforts and provide assistance.
Under the order, federal funding and reimbursement for mass care, including evacuation and shelter efforts, will be available for several counties in the state.
Meanwhile, Governor John Bel Edwards has urged residents to prepare for both the hurricane and storm.
"You need to be prepared to ride out the storms, you and your family wherever you are, at dark tonight," he said. "Tropical storm force winds will be impacting coastal Louisiana before daylight tomorrow."
According to the National Weather Service, Marco's maximum winds are at least 75 miles per hour. The hurricane is currently over the Gulf of Mexico and is expected make landfall on Monday.
#Marco has become a hurricane, according to data from the Air Force @403rdWing Hurricane Hunters. Maximum winds are 75 mph (120 km/h) with higher gusts. https://t.co/MPtF0KuhE3 pic.twitter.com/o7GbutfMHU

— National Hurricane Center (@NHC_Atlantic) August 23, 2020
Tropical Storm Laura is expected to grow into a hurricane and make landfall later this week. Forecasters have predicted the two storms will both be in the gulf on Monday, which would be the first time two hurricanes have appeared in the area at the same time.
The phenomenon is part of the irregular hurricane season this year, which reportedly has been experiencing more storm activity than usual due to a number of factors.
11 am EDT Sunday, August 23 Key Messages for Tropical Storm #Laura: There is an increasing risk of storm surge, rainfall, and wind impacts along portions of the U.S. Gulf coast by the middle of the week. https://t.co/FpZhKZqV80 pic.twitter.com/RJmyMkm6B2

— National Hurricane Center (@NHC_Atlantic) August 23, 2020