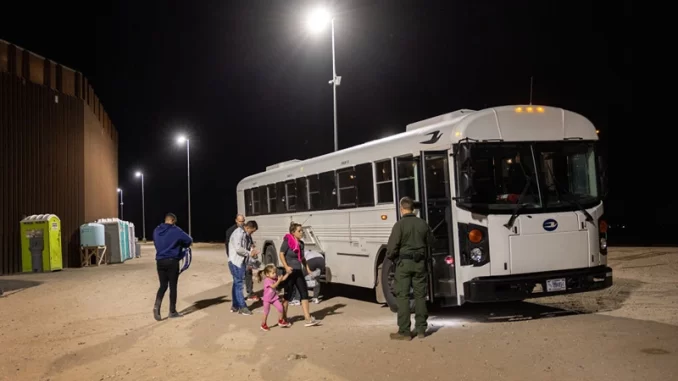 OAN Roy Francis
9:55 AM PT – Friday, February 10, 2023
According to reports, the Biden administration is negotiating a migrant swap deal with Mexico that would exceed the United States' immigration caps for 2023.
The deal being negotiated will allow U.S. authorities to conduct "large-scale deportations" of non-Mexicans back across the border, but will also allow "hundreds of thousands" of Mexican migrants into the country.
Authorities claim that immigrants under this deal will be allowed to enter the country legally, while severe consequences will be in place for those who "don't follow the rules."
Officials say that the U.S. government has been turning back many non-Mexican immigrants back to Mexico under Title 42 since March 2020. However, they say that formal deportations under this deal will create legal consequences for immigrants which will ultimately deter further illegal crossings.
Officials said that the deportations to Mexico will be limited to Haitians, Nicaraguans, Venezuelans, and Cubans. These immigrants will be sent to Mexico only when certain situations prevent the U.S. from deporting them back to their home country.
The practice of sending immigrants back to other countries when their home countries would not accept them back has been common, but not to the scale that is being negotiated.
The "Remain in Mexico" program under former President Donald Trump had required immigrants to wait in Mexico while their claims were processed. They were not allowed to cross into the country, so large scale deportation was not required at the time.
The Biden administration claimed that Title 42 restrictions had incentivized illegal crossings because migrants would not face legal consequences when they cross into the country multiple times.
U.S. Customs and Border Protection had intercepted immigrants along the Mexico border 2.4 million times in 2022, a record number (not accounting for immigrants who had crossed undetected).
After the highest number of arrests ever across the border in December, 251,000, the U.S. and Mexico had announced on January 5th that 30,000 migrants from Haiti, Cuba, Venezuela, and Nicaragua would be deported to Mexico per month.
However, the new deportation plan that is being negotiated will reportedly allow Mexico to have control over key elements such as nationalities and criminal background of individuals deported to the country.
The new deal is being negotiated by the Biden administration as they face severe criticism from Republicans over the southern border, and as they also begin to prepare for the 2024 presidential election.
The tougher approach is necessary to address a crucial issue, but will likely be opposed by immigrant advocacy organizations and some Democrats.