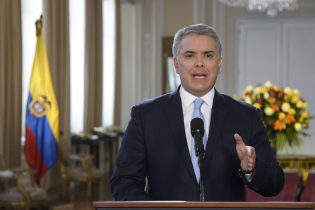 OAN Newsroom
UPDATED 10:30 AM PT – Sunday, August 23, 2020
17 people are dead following multiple attacks in Colombia this weekend.
According to reports, at least three separate attacks occurred within 24 hours. The violence was reportedly carried out by drug trafficker and criminal groups in the region.
Attacks in the Narino and Cauca provinces resulted in the deaths of six people each. Five died following an attack in Arauca.
Colombian President Ivan Duque has condemned the attacks and emphasized this type of violence mainly hurts children in the country.
"The rejection of violence is because it mainly hurts the young people of Colombia," he said. "It hurts that, in many communities, these armed groups have always tried to recruit children."
Earlier this week, the U.S. and Colombia released details on a new bilateral initiative, which aims to end drug trafficking in the country.