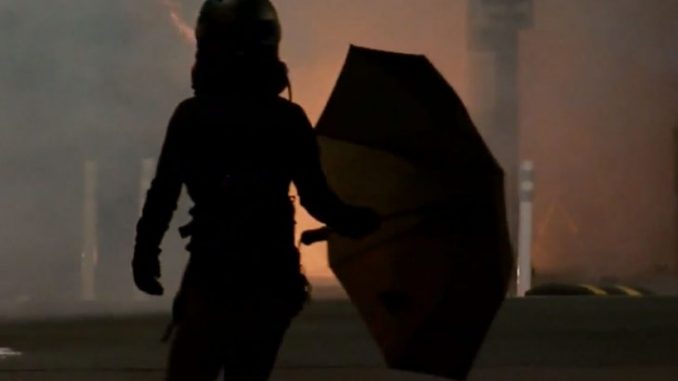 OAN Newsroom
UPDATED 10:15 AM PT – Sunday, August 23, 2020
Nine people are in police custody following an evening of unrest in Denver, Colorado. According to reports, a group of several dozen people clashed with law enforcement Saturday night after marching on the police station in an apparent protest.
The group, which was armed with shields and some weapons, reportedly tried to take down the fence around the station and threw fireworks at officers.
Denver Colorado tonight, August 22nd, 2020. Protesters are destroying property along the way. #Protesting #Colorado #DenverProtest #Denver pic.twitter.com/mP2F72AMmL

— Darla a.k.a. Missy? (@MNMissy) August 23, 2020
One group of about a dozen people said they had taken it upon themselves to protect the police from the violence.
"We've seen the rioters come down here. We've seen the rioters across the country destroy cities, and we're not going to tolerate it. We're done with it. We are part of the silent majority. Most of us are veterans. I'm a Marine Corps veteran, I'm a law enforcement officer, and we're not going to tolerate this stuff anymore." – Unnamed resident
The protest group eventually left the police station and continued to march downtown, where they broke windows and started fires.
People are breaking every window they see. Someone came out of Quiznos with a drink in hand and said, "I needed a coke" #9News pic.twitter.com/q5r6niZq0O

— Marc Sallinger (@MarcSallinger) August 23, 2020
Reports claimed one officer was injured in the incident. However, the extent of their injuries is unknown.