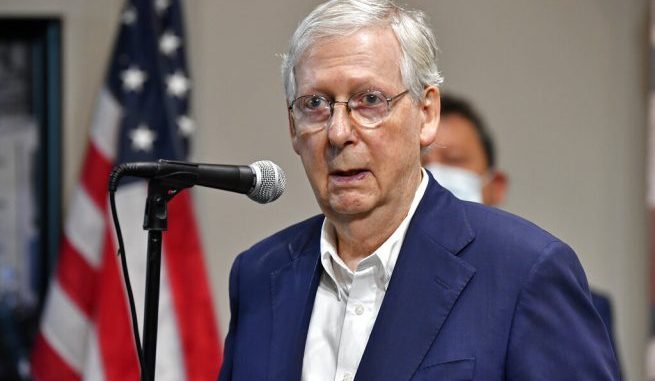 OAN Newsroom
UPDATED 6:34 AM PT – Friday, August 21, 2020
Senate Majority Leader Mitch McConnell has refuted Democrat claims that the U.S. Postal Service will not be able to handle an increase in mail-in voting. The Kentucky Republican told reporters Thursday, the post office already has enough resources to process any amount of ballots.
Recently, Democrats have accused President Trump of trying to destroy the USPS. However, McConnell said they are making problems out of nothing. He made the following remarks on the topic:
"You've seen the deal that's been worked out between our Republican secretary of state and our Democratic governor. For everybody to vote, to cast a vote and to have the vote be counted, whether you choose not to go do it in person or whether you drop it in the mail, this is a nonexistent problem. It's going to be taken care of."
Democrats have also dismissed the president's calls for postal reform and have accused him of — what they called — voter suppression. However, McConnell said America needs an urgent reform of the USPS, particularly in rural areas and small towns.
Meanwhile, President Trump suggested Democrats are only interested in the USPS because they fear few people will turn our to vote for their candidate — "Slow Joe Biden."
The Democrats are demanding Mail-In Ballots because the enthusiasm meter for Slow Joe Biden is the lowest in recorded history, and they are concerned that very few people will turn out to vote. Instead, they will search & find people, then "harvest" & return Ballots. Not fair!

— Donald J. Trump (@realDonaldTrump) August 20, 2020