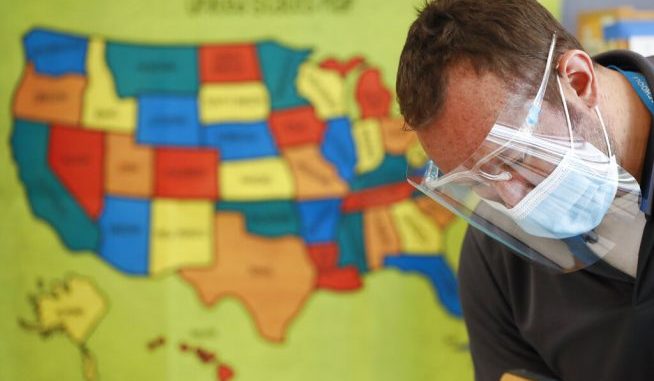 OAN Newsroom
UPDATED 6:18 PM PT – Thursday, August 20, 2020
President Trump has issued new guidance to label teachers as "critical infrastructure workers," which could pave the way for them to return to the classroom this school year.
His announcement comes as the latest step in the Trump administration's push to reopen schools, which they hope will enable students to receive a quality education and allow parents to return to work.
"We believe that we can safely reopen our schools. We know that it's best for our kids. We don't want them to fall behind academically, but also we don't want our kids to miss out on the counseling that they receive. Special needs services, as well as all the nutrition programs that are available just at our schools. Finally, Mr. President, I know that you've recognized from early on that getting our kids back to school is first a priority for them, but also it's important for working families." – Mike Pence, Vice President of the United States
According to reports, multiple school districts in Georgia and Tennessee have already made plans to allow educators to teach in person.
One Tennessee county voted to designate teachers as essential back in July. So far, five other counties have followed suit.
Earlier this week, Governor Bill Lee announced his state would accept such a mandate. He has said he would leave the decision up to individual school districts.
Lee added teachers will be provided with personal protective equipment. He emphasized they will not be going to schools if they are sick or have tested positive for the coronavirus.
"If a teacher tests positive, they won't be in the school," said Lee. "…If teachers are exposed, there are specific protocols to that as well."
In the meantime, Georgia's Governor Brian Kemp has said he's evaluating whether to implement the federal guidance in statewide reopening guidelines.