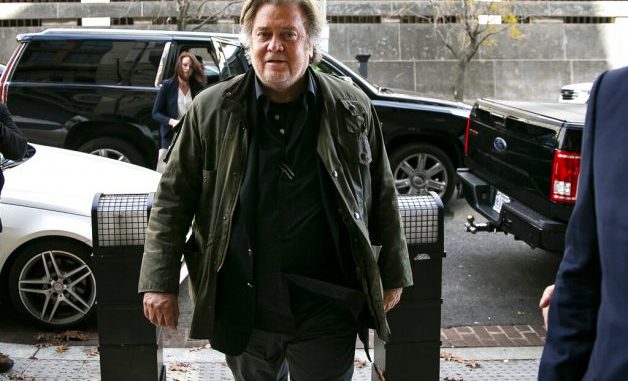 OAN Newsroom
UPDATED 2:40 PM PT – Thursday, August 20, 2020
Former White House chief strategist Steve Bannon has pleaded not guilty after being indicted for an alleged illicit border wall scheme. He made a virtual court appearance on Thursday, during which a federal judge agreed on a $5 million bond.
Bannon formally refuted both the money laundering and wire fraud charges pending against him. According to reports, he was arrested Thursday morning by postal officers while he was aboard a yacht in Connecticut.
He is expected to appear again for a pretrial hearing on August 31st.
Federal prosecutors in Manhattan, New York announced the indictments of Bannon, Iraq veteran Brian Kolfage and two others earlier that day. Officials alleged the four men ripped off hundreds of thousands of people who donated to the "We Build the Wall" non-profit.
The project sought to raise $1 billion in donations to aid the federal government's border wall construction project. It started with a GoFundMe back in December 2018 and raised $25 million over nearly two years.
According to officials, Bannon and Kolfage used a significant amount of those donations for personal expenses. The two allegedly did this by redirecting funds through the non-profit, while telling supporters it was still a volunteer project and that 100% of the funds would go directly to the mission.
President Trump weighed in on the matter following the announcement of Bannon's arrest. He stated he didn't know his former adviser had spearheaded the project.
The president added he never liked the idea of a privately funded border wall to begin with, since it's too complex and big of a task for anyone but the government to take up.
"I know nothing about the project other than I didn't like, when I read about it, I didn't like it. This is for government, this isn't for private people. It sounded to me like showboating. I let my opinion be very strongly stated at the time: I didn't like it, it was showboating and maybe looking for funds." – Donald Trump, 45th President of the United States