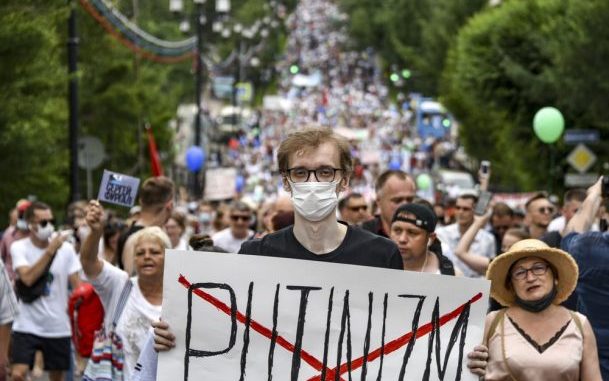 OAN Newsroom
UPDATED 12:00 PM PT – Saturday, August 15, 2020
Around 2,000 people in eastern Russia rallied on Saturday against the arrest of a local governor as part of ongoing demonstrations in the region. According to reports, the protest marked the sixth consecutive weekend of demonstrations against the arrest of Sergei Furgal.
Furgal was taken into custody at the beginning of July over murder charges, which his supporters believe are politically motivated.
Supporters claimed he was removed from office after defeating an ally of President Vladimir Putin in 2018.
"We want Sergei Ivanovich Furgal to be freed. Our governor we voted for, who is now in Lefortovo (Detention Center) probably being tortured. …We believe that he did not kill anybody, did not order to kill anybody. Those murders, it is doings of criminals. Sergei Ivanovich has nothing to do with it." – Unnamed protester
Protesters also voiced support for demonstrations against the disputed presidential vote in neighboring Belarus.