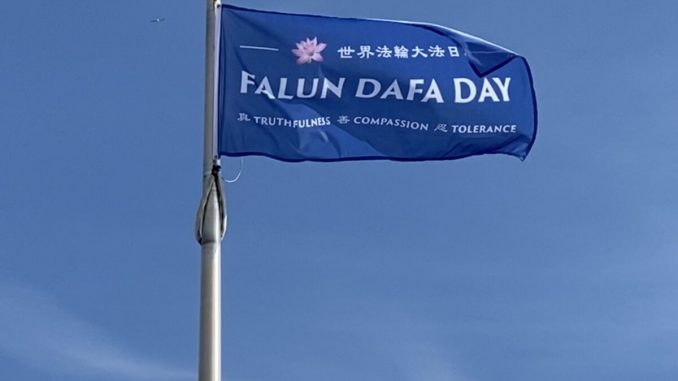 As World Falun Dafa Day nears, adherents of the spiritual practice are celebrating the 29th anniversary of its introduction to the public in cities across Canada.
Wang Jinju, a Chinese immigrant and retried professional athlete, said she was moved when the Niagara Falls City Hall raised a flag that says "Falun Gong Day" over the weekend ahead of World Falun Dafa Day on May 13.
"When I saw our Falun Dafa flag raised, I recalled that moment when I stood up again after being paralyzed, I cannot find words to express my feelings," Wang told The Epoch Times.
Wang was a professional basketball player in the General Logistics Department in the People's Liberation Army, and had coached a number of basketball teams for the Chinese military. But injury acquired from years of training brought Wang severe physical pain and left her paralyzed twice.
Wang began practicing Falun Dafa in 1996. She said the exercises had relieved her of chronic pain and she soon regained the ability to stand and walk.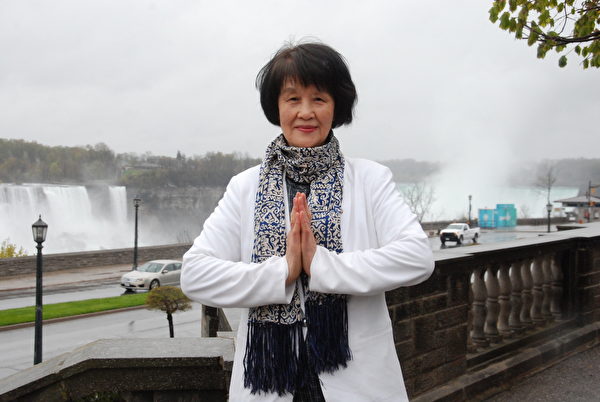 Falun Dafa, also known as Falun Gong, is a meditation practice that consists of five exercises and moral teachings based on the tenets of "truthfulness, compassion, tolerance," according to its website. The practice was first introduced to the public in 1992 and gained widespread popularity in China. Approximately 70 million to 100 million people were practicing Falun Gong in the country by the late 1990s, according to the Chinese regime's official estimation.
However, Jiang Zemin, the former leader of the Chinese Communist Party (CCP), perceived Falun Gong's large following a threat to the regime's rule, and launched an unprecedented campaign to eradicate the practice in 1999. The persecution—which includes the arrest, torture, and forced organ harvesting of practitioners—continues to this day.
Wang said she was subjected to the CCP's persecution three times before she fled the country. Her family members in China were also jailed for practicing Falun Gong, and a number of them died as a result of brutal abuse.
"I came abroad, and I felt deeply that this is a democratic and liberal environment, and here [in Canada], I can share the wonders of Falun Dafa with the people," Wang said.
Wang set up a booth near Niagara Falls to share with Canadians and tourists how she has benefited from practicing Falun Dafa and to raise awareness of the CPP's persecution of the practice.
"In the process of establishing [the site], we won the understanding, support, and cooperation of the Niagara Falls government, which we are extremely grateful for" Wang said.
"Many tourists from around the world came up to us each day, asking a common question: 'What is Falun Gong?'" she added. "They saw our placard and were asking why [would the CCP] need organ harvesting."
A number of cities across Canada celebrated World Falun Dafa Day by raising flags at local landmarks, including in Niagara Falls, St. Catharines, Orangeville, Orillia, and Kingston in Ontario, and in New Westminster, Coquitlam, and Maple Ridge in British Columbia.