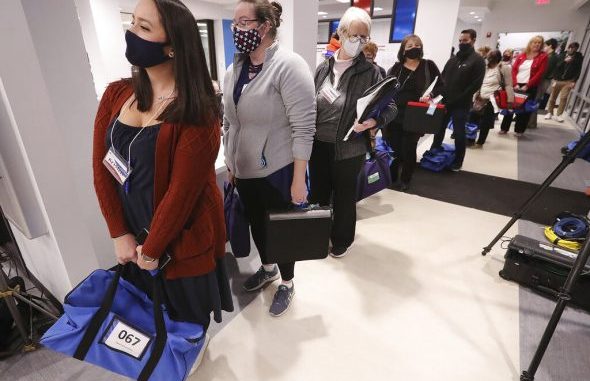 OAN Newsroom
UPDATED 7:49 AM PT – Wednesday, January 6, 2021
Georgia Rep. Jody Hice (R) suggested he would be open to a possible federal fix to issues in our elections system. He made those comments to One America News on Tuesday while discussing the Senate runoffs.
Hice said some steps are being taken to try to eliminate election fraud and give confidence to Americans that their votes will count. He noted 8,000 additional people, such as observers and poll watchers, were added for the runoffs in an effort to make fraud less likely to happen.
The Georgia Republican thinks more reform is needed and while it's up to states to decide how to run their elections, he could consider other options.
"There's a degree of concern as to the federal government becoming the overseer, the manager of how elections take place in the country," he stated. "Are there some small things that federal government can do to try to prevent states from having the disaster that we saw in Georgia and other states? Perhaps. I'd be interested in entertaining some ideas."
Fraudulent elections and liberty cannot co-exist!

If fraud is tolerated, tyranny will ensue! We cannot afford to be idle. These are the moments that count.

We must eradicate election fraud and prosecute the guilty.

OBJECT to the electoral certification in Congress on Jan 6!

— Rep. Jody Hice (@CongressmanHice) January 4, 2021
Hice said there's no doubt the General Assembly will deal with many of the election issues when state lawmakers come back into session in the coming weeks.