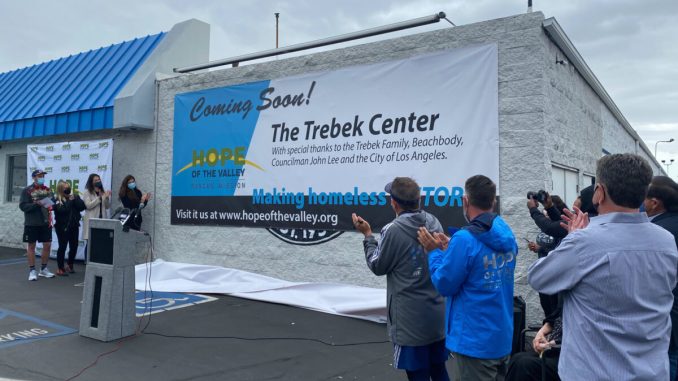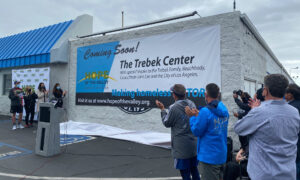 LOS ANGELES—When San Diego stopped issuing strip club licenses and a local club went up for sale, a church bought it to create a shelter for human trafficking survivors.
When the pandemic bankrupted a family favorite roller rink that had been in Los Angeles for more than 40 years, a project to turn it into bridge housing for the homeless got underway.
Repurposing buildings has become a common theme in the Golden State as officials find new ways to address the highest unsheltered homeless population in the nation.
A Club for Survivors
It took Rock Church San Diego two years to decide what to do with it's purchase of the Nude Girls adult club.
In 2018, Rock Church bought the property for $1.2 million. The city had stopped issuing new strip club licenses, and the club went on the market with two years left on its license. The church bought it with "the original intent to hold it until the license lapsed," Lisa Penburthy, the church's director of operations, told The Epoch Times.
The idea was to dismantle the "culture" around adult clubs, but the church didn't know what it would ultimately do with the property.
"Now we are full-speed ahead to make it a resource center and transitional housing for eight survivors, women 18 and over, that have been human trafficked," Penburthy said. "Whether it's [the] police force or other organizations that are rescuing the ladies, they would come through an agency to actually be housed there."
The shelter will offer victims "their first steps to detox and establishing their own dignity," for up to 120 days, according to Penburthy, while the church works with partner organizations to find permanent housing for the women. They will be offered job training, help with resume writing, and counseling, she said.
In March 2020, the church got a $754,000 Community Development Block city grant for the repurposing, and remodeling will begin at the end of April.
During the 1960s and 1970s, the neighborhood, Point Loma, was full of strip clubs and bars catering to military boats that docked nearby, according to Penburthy. "It is an area that is quickly changing," she said.
She said this project is phase one of the church's plan to help the survivors. It will acquire other buildings to establish permanent housing, where the temporary residents can transition into one-to-two-year programs "where they would actually be acquiring the work skills and developing life skills to … go out and return being a contributing member of their community."
The church is also leasing out other properties in the city—such as an abandoned Toys "R" Us store—to provide job training and resources to struggling families.
Rolling Home
Northridge Skateland in L.A. was a local favorite for 42 years, but couldn't hold on under the weight of COVID-19 restrictions. It went bankrupt. But the owners have entered a private agreement with the city, leading to the transformation of the rink into a bridge housing shelter.
In a project spearheaded by Hope of the Valley—a nonprofit running multiple temporary housing shelters in California—the 23,000-square-foot building will become The Trebek Center, named after late "Jeopardy" host, Alex Trebek.
The Trebek family donated half a million dollars to the nonprofit for the project, which will have full wraparound services including job training and placement, mental health counseling, and drug rehabilitation options.
"I know how proud Alex was of their mission. He was so deeply grateful to be a part of the solution," Jean Trebek, Alex's widow, told reporters during a March 25 press conference outside the roller rink.
The facility will undergo interior remodeling this year. When complete, the new shelter will provide 107 beds.
L.A. City Councilmember John Lee championed the repurposing of the rink. He told The Epoch Times the city is already in negotiations for repurposing other buildings and his district, 13, has moved "probably faster than anybody," he said.
"I want to say close to 230 beds [are] scheduled to be here in our district in just a short time. … We know that we need to do more, and we are already looking," Lee said. "We want to make sure that this is a facility that's not just cramming as many people as possible."
Lee also remarked on the generosity of the Trebek family.
"They've been so great to this community over the years, and they wanted to give one last gift," he said. "They reached out to Hope of the Valley. Once we saw that they had a partnership, we wanted to make sure that this is going to be in our district."
Hope of the Valley is looking for more properties to acquire, too. Teresa Jackson, chair for the nonprofit's board of directors, told The Epoch Times the organization has its eye on hotels to become homeless facilities.
"During the pandemic, a lot of people, a whole lot of hotels are losing money. So we're looking at that as also a … place for [homeless] people," Jackson said.
Melrose Place
Near Hollywood, L.A.'s Municipal Facilities Committee (MFC) recently approved turning a 12,240-square-foot, one-story apartment complex into an interim housing facility for the homeless.
The Villa Stanley East apartments sit on prime real estate near a number of successful businesses, including the famed Pink's Hot Dogs, LALA'S Argentine Grill, and Sugar Taco. On April 8, the L.A. City Council moved to negotiate for use of the apartment complex and execute a lease agreement with the property owners, La Brea Garden Property LLC, as part of the city's COVID-19 Homelessness Roadmap.
Last month, the Office of the City Administrative Officer (CAO) released a report with recommendations that included a $2.9 million fund allotment for 60 interim housing beds and lease of the Melrose property through June 2025.
The report is still pending council and mayoral approval, but officials have previously shown support for such projects. The estimated annual cost to operate the facility is $1.2 million, with another $600,000 for additional services; funding will come from the city's annual budget.
According to the city report, the building needs significant upgrades before it can be used, including the roof, plumbing, electrical, and HVAC. The landlord has already agreed to repair and renovate the complex by December, to be in compliance with the city's codes for the project.
L.A. officials are scrambling to establish more facilities for the homeless after an independent audit last September showed the county was well behind in creating supportive housing units for its nearly 61,000 unsheltered population.
Nora Frost, an L.A. City Planning spokesperson, told The Epoch Times breaking down the city into communities, rather than districts, can help solve the problem by adding incentives aimed at specific areas.
"How we can help promote affordable housing is to put policy into new efforts," she said. "I know that some people think of L.A. like there's 15 different districts or council offices, but for us, they're 35 different communities. And so what happens is whenever we renew those planning updates—and that tends to happen about every 20 years—then that's when we move forward and we say, 'OK, we're gonna encourage affordable housing in this area,' because we're going to add these incentives."
Councilmember Lee said, "We know that we need to do more, and we are already looking."
"Sometimes when you're building apartments, it's $40,000 in fees and taxes before you even put a shovel in the ground, per door … there's something wrong with that," Lee said. "We need to do what we can in the city. We're taking a look at the different fees to hopefully … bring that price down, so that we can grow some more affordable housing."
In Orange County, local jurisdictions have taken it upon themselves to begin repurposing properties for the homeless.
In Santa Ana, which has the most homeless people in Orange County, launched an adaptive reuse ordinance last summer to identify office buildings and complexes that are eligible to become affordable residential units.
And in Anaheim, run-down motels and office buildings are being converted into affordable housing units through the city's new conversion initiative. A $22 million project to convert an old Econo Lodge Motel into a 69-unit apartment complex is underway and expected to be ready in the fall.
"Anaheim has long been a leader in creating affordable housing for our community, and the motel conversion program shows how we step outside the box to find innovative ways to build new shelters and housing in a built-out city," Anaheim spokesperson Lauren Gold told the Epoch Times earlier this month.
The 2021–2022 California legislation session commenced with the Senate's "Building Opportunities for All" housing package, which includes proposed reforms to address the state's housing crisis. SB 5, SB 6, SB 8, SB 7, SB 9, SB 10, SB 12, and SB 55 are all currently pending hearings; the bills are related to various housing issues, including density, zoning, and the repurposing of properties.