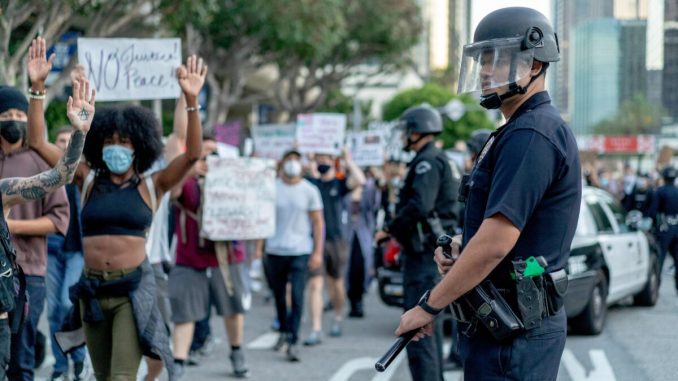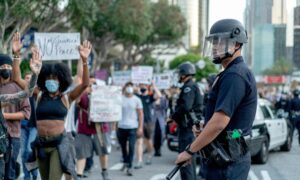 Violent crime has soared in Los Angeles County this year because criminals have been emboldened by progressive law enforcement policies as well as the "defund the police" movement, the county's sheriff says.
Los Angeles County Sheriff Alex Villanueva said the county recorded 60 homicides during the first two months of the year, compared to 21 in the year-earlier time frame, he told Fox News in an interview.
Villanueva specifically blamed new Los Angeles County District Attorney George Gascón, a Democrat who was elected to lead the nation's largest prosecutorial office in December 2020, amid the widespread unrest and calls to "defund the police" following the death of George Floyd while in Minneapolis police custody.
Gascón's victory over incumbent Jackie Lacey was seen as a repudiation by voters of more traditional, tough-on-crime policies, according to the Los Angeles Times.
"I recognize for many this is a new path," Gascón, a former officer with the Los Angeles Police Department and district attorney in San Francisco, said after being sworn in. "Whether you are a protester, a police officer, or a prosecutor, I ask you to walk with me. I ask you to join me on this journey. We can break the multigenerational cycles of violence, trauma, and arrest and recidivism that has led America to incarcerate more people than any other nation."
Three months into his tenure, Gascón has directed prosecutors in his county not to seek the death penalty or defend existing death sentences, or to file any sentence enhancements, which he described in his special directive (pdf) as "a legacy of California's tough-on-crime era." He also created a "Use of Force Review Board," made up of civil rights attorneys, community members, and policing experts, to review police uses of fatal force dating to 2012 for possible prosecution.
"They need to really pick and choose very carefully because for them it's very easy to say, 'Oh yeah, all cops are bad,' and, 'Let's reform and defund the police,'" Villanueva said, referring to voters who back progressive policies and candidates. "Yet they're the very first ones to pick up 911 when someone's crawling over their back gate trying to get into their house."
University of Southern California Law Professor Jody Armour disagrees, saying that police are intensifying violent crimes in their communities with their own actions.
"That reservoir of resentment is actually, in and of itself, also a driver of crime," Armour told Fox News. "Until that's healed, we're really not going to get at the spiraling crime problem."