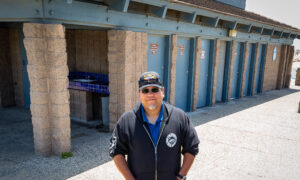 Some residents of Huntington Beach, Calif., say they're being accosted by drug addicts and mentally unstable homeless people.
However, city officials say the homeless situation is not worsening as the city implements more programs and laws to mitigate the issue.
Rolando Galvan, of Huntington Beach, said restrooms at state beaches are becoming an unsafe environment due to people using them as places to take drugs.
"It's not a secret," Galvan told The Epoch Times. "There are people who would just go in there and they would be in there for hours on end. It's the drug users. It's not mainly the homeless. It's the addicts that are doing this."
Galvan is a regular beachgoer who likes to fish. He said when he arrives to the beach in the mornings, the restrooms are usually occupied by drug users.
He said he's noticed the substance abusers in the bathrooms have "progressively gotten worse when COVID hit."
Some drug users have discarded used needles in the steel receptacle next to the toilet, he said, adding he recently found aluminum foil containing suspected drug residue atop a toilet paper dispenser.
"I guess the aluminum foil thing was the thing that pushed me over the line," he said.
Galvan said the restrooms in Crystal Cove and Bolsa Chica State Beach experience similar problems, as he has seen blood droplets and needles in them previously.
Safety Concerns
Doug Fox, of Huntington Beach, was at the beach May 17 with his seven-year-old daughter and baby when they were accosted by an unstable woman near the public restrooms.
The woman was holding feces in her hand and approached Fox and his daughters, he said. She exposed herself to them, and followed them down the beach path, Fox told The Epoch Times.
"She told us she was going to kill us; she exposed herself to us; she tried to put the feces in our face; she said things like 'your daughters are a target,' which as a father that really concerns me," Fox said.
Fox and his children went behind a lemonade stand. The owner of the stand, aware of the unfolding situation, took them in and offered them lemonade.
The woman stopped following them, but began to expose herself and curse at the passerby, Fox said.
"She told a couple other people that she was going to kill them and was making people leave Pier Plaza."
Fox called the police, who informed him that she was just recently released from jail.
"I heard they've already committed her. She's already had the 72-hour hold, and they know her. They know that she does this," he said. "I just don't want my daughters' safety, and my wife's safety to be jeopardized every time we go to the beach."
Fox said this is something he must worry about every time his family goes to the beach.
"I cannot with good conscience let my wife and two daughters go to the beach by themselves, and that is terrible," he said. "It's definitely getting worse, and something needs to be done."
Cpt. Kevin Pearsall, superintendent of Huntington State Beach, Bolsa Chica State Beach, and Crystal Cove State Beach, said individuals at the beach with mental health issues "is a very large issue on their behavior and erratic behavior in public."
Though the issue may be large, Pearsall said there has not been an increase in the number of responses to individuals with mental health disorders.
As for the drugs in the restrooms, Pearsall said the issue is common, but there has not been an increase in the number of responses to this type of call.
The primary amount of beach ownership in Huntington Beach is controlled by the state park system.
The restrooms are closed by state park personnel at night, which mitigates individuals camping out overnight, Pearsall said, adding there are about 10 to 20 restroom complaints each year.
The Huntington Beach Police Department has seen a "small increase in arrests related to drug use compared to the five-year average, however this increase is not specific to homeless individuals," Jennifer Carey, spokesperson for the Huntington Beach Police Department, told The Epoch Times.
"The department does respond to calls regarding individuals occupying beach restrooms for extended periods of time, and have made arrests for drug use," Carey said.
"If someone is under the influence of a controlled substance, they can be arrested. Depending on the circumstances, the individual may be referred to a mental health facility or a medical care facility for appropriate care if deemed necessary."
Councilmember Mike Posey said the city is continuously addressing its homeless problem, and is "better off than most cities."
"We are really at the forefront of addressing homelessness in Orange County," Posey told The Epoch Times.
The city recently passed an abandoned property ordinance that prohibits abandoned personal items on public property for more than 24 hours.
Posey said this ordinance sends a message that "Huntington Beach may not be the friendliest place to set up housekeeping on public property, and if you do, we're going to seize your property."
Huntington Beach's homeless task force is composed of full-time police officers that make contact and build relationships with the homeless population.
The city's Navigation Center provides homeless people with a place to live, and gives police a tool to enforce anti-encampment ordinances.
As well, city council recently approved a Be Well OC sprinter van that will be staffed with medical and mental health personnel that will be first responders to any individual in the city that requires help with medical, mental, or substance abuse issues.
Said Posey: "Huntington Beach is on the cutting edge. I mean we're on the front lines and we're taking this seriously and we're doing a great job."