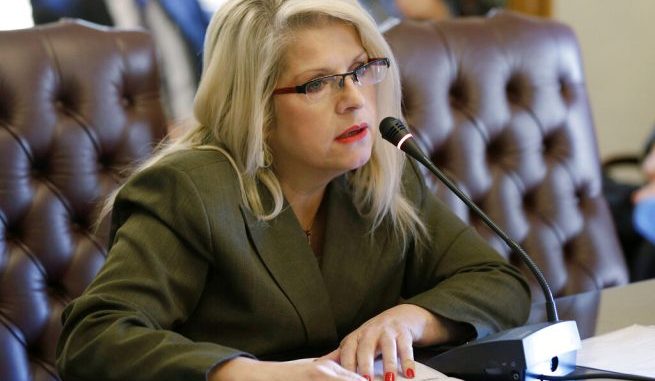 OAN Newsroom
UPDATED 11:46 AM PT — Friday, August 7, 2020
Justice is served after a former campaign aide made a bombshell plea admitting to "intentionally killing" a former Arkansas senator.
Rebecca Lynn O'Donnell pleaded guilty to first-degree murder and abuse of a corpse in a Pocahontas courtroom Thursday in the case of Linda Collins-Smith.
Collins-Smith was found dead by her son in June of last year while wrapped in a comforter and placed under a plastic tarp in her own drive-way. Authorities said the former lawmaker died from multiple stab wounds.
Her daughter, Tate Williams, spoke outside of the courthouse following the hearing, where she called the plea deal swift justice.
"No amount of punishment will ever fill that void that Rebecca O'Donnell made in our lives the day she killed our mother," she stated. "Today we find some shred of peace that Rebecca O'Donnell will be put away in prison for a very long time, unable to hurt anyone else."
O'Donnell had previous pleaded not guilty to capital murder, however, her attorney said she entered the plea deal to avoid the death penalty.
Authorities said she's keeping the motive to herself. They also noted that they are pleased with the outcome of the trial. Collin-Smith's son, however, believes O'Donnell's murder is clear.
"What happened to my mother was an awful deed…it was carried out of hat, jealousy and greed," said Butch Smith. "I believe Rebecca O'Donnell was stealing money from my mother and when my mother confronted her about it, she snapped and stabbed my mother to death in a fit of rage."
O'Donnell also pleaded no contest in a separate case to charges of solicitation for trying to hire other inmates to kill Collins-Smith's ex-husband. The 49-year-old has been sentenced to 50-years behind bars and is eligible for parole after 30.
According to the presiding judge, documents previously sealed in the case will be made available to the public in the near future once sensitive material is redacted.