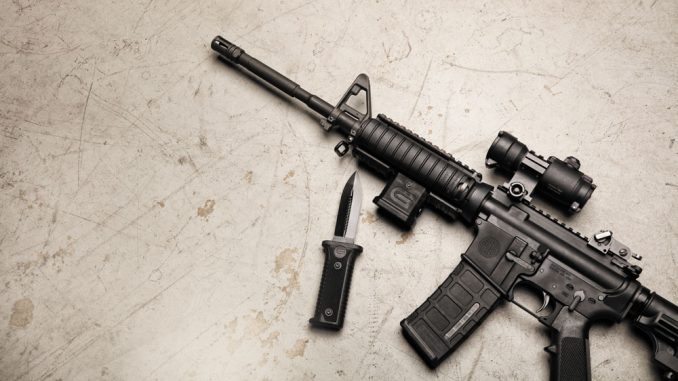 Hands On With Gripknife's Patriot
For those who choose to have a firearm as one of the last defensive measures for home and family defense, Gripknife presents yet another last-ditch defensive tool.
The fact is we live in a dangerous world that is becoming more dangerous with each passing day. According to the U.S. Department of Justice, 1.03 million home invasions occur each year, with 27 percent of those homeowners becoming a victim of violent crime.
Statistics state that three out of four homes will be broken into in the next 20 years, with most of these break-ins being forced entries involving weapons. If those stats alarm you, they should.
We see it in news reports and police blotters all the time. Burglaries and outright home invasions being perpetrated by multiple attackers, now even in broad daylight. The people have had enough.
With more crime comes stronger defensive measures. We are decking out our homes with security cameras, upgrading our locks and security systems and improving communications with our neighbors.
Those are all good options in making sure our homes and neighborhoods are as secure as can be. But what happens if a criminal or group of criminals penetrates those defenses?
The makers of Gripknife state that, "In stressful situations like this, anything can happen, and what can go wrong eventually will, so it's best to prepare ahead of time through close-quarter-combat education and training (after all, that's what these home invasions can lead to), so homeowners can be ready and survive a worst-case scenario, rather than becoming a statistic."
For those who choose to have a firearm as one of the last defensive measures for home and family defense, Gripknife presents yet another last-ditch defensive tool. Their line of collapsible grip-borne knives is deployable in a split-second and can be attached to any firearm that is equipped with a Picatinny accessory rail.
The Gripknife mounts solidly to the Picatinny rail and can be used as a traditional foregrip. When mounted to a railed handguard, Gripknife assists you just as any other foregrip does. It provides a solid grip at the front end of your weapon to increase control and stability. What it does that other foregrips don't do is it can also be deployed as a knife in a moment's notice.
Gripknife comes in two versions- the Patriot, which is currently the most rugged and heavy-duty model, and the Defender, which is a lighter-weight version of the Patriot. We had the opportunity to spend time with the Patriot.
If for some reason your gun becomes inoperable, due to a weapons malfunction for example, you're not left defenseless. Simply pressing its fire button will release Gripknife from its rail-mounted sheath and deploy its 4-inch long M2 High Speed Steel blade.
The blade features a spear tip and is flat-ground sharpened on a single edge. The blade deploys out the front of the grip and is spring-assisted so that its business end appears in a split-second. Fractions of a second are critical when your life is on the line. For those wondering, according to its makers, Gripknife is not considered a switchblade.
The Patriot's foundation is the Model 7 chassis. With the understanding that fail points are unacceptable to have in their product, the Gripknife team did away with the standard of having grips layered on top of thin cookie cutter-type liners, of which are all then held together by many small screws, spacers and pins.
The Model 7 chassis is a two-piece frame that is solidly interlocked together without the use of screws. Doing it this way eliminates the majority of the weaknesses found in most collapsible knives made today, says the company.
The blade utilizes an innovative magnetic, spring-assisted action to help it lock into its grip as it is removed from its rail mount. Once released, the knife feels as solid as any other.
To keep the Gripknife safe for its user, its designers studied other out-the-front knife designs to understand their weaknesses. They told us, "The problem was that blade locks on traditional out-the-front knife designs are considered by many to be inherently weak when compared with other collapsible knife designs such as your folding knives.
We needed something stronger, something that could compete with the locks of folding knives, something that could bust through concrete, and to the best of our knowledge, locks that strong don't exist on any knife."
They continued, "First we needed a lock that worked reliably, and then we needed to make it stronger than anything ever before, if that was possible. While sweeping the shop floor, the design idea was born.
Within a week we had a working prototype, and as if it were meant to be, it worked reliably the very first time. After several tweaks (and broken cinder blocks), the official Linear Cam Locks were born.
Relying heavily on the design of the chassis to create strength through synergy, our locks can withstand a variety of extreme forces on a level that we believe has never been attained in a collapsible production knife."
At first mention, the Gripknife may sound like a gimmick. But believe us when we say that Gripknife is a serious defensive tool.
The build is beyond robust and it was surprisingly easy to get used to. We believe that adding a blade such as Gripknife to your defensive training can be another tool in your self-defense toolbox. We can't have enough of those.
You may never need to use it as a defensive weapon and we hope you never do, but we believe that it's better to have as many advantages stacked on your side as possible when you are defending yourself, your family and your home. Gripknife could be another advantage to stack in your corner. EDC
Grip Knife Patriot
 MSRP: $595
URL: gripknife.com
Editor's note: A version of this article first appeared in the EDC Buyer's Guide Winter, 2020 print issue of American Survival Guide.