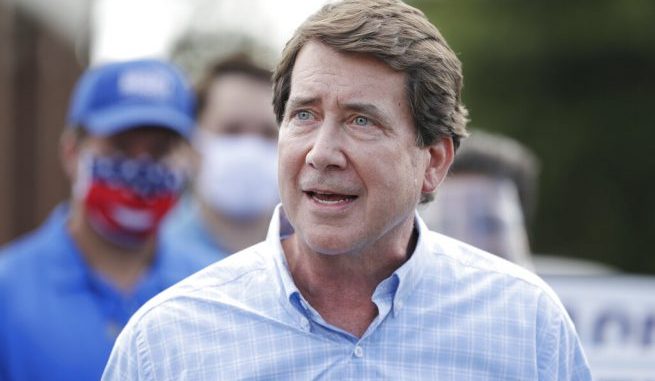 OAN Newsroom
UPDATED 10:41 AM PT — Friday, August 7, 2020
Concluding a hard fought and bitter primary race, President Trump's preferred candidate won the Republican nomination for the open Senate seat in Tennessee.
Results were announced Thursday with former Ambassador to Japan Bill Hagerty grabbing more than 50-percent of the vote. He beat his closest adversary, Manny Sethi, by more than 10-points.
While 15 candidates competed to replace retiring Sen. Lamar Alexander, the race mostly focused on the rivalry between Sethi and Hagerty. It featured several high-profile endorsements with Hagerty receiving a strong endorsement from President Trump.
"I'm the only candidate in this race that's endorsed by President Trump, I'm also endorsed by Senator Marsha Blackburn," he stated. "I think the public here in Tennessee want to see a true conservative representing them in Washington."
The last stretch of the race featured ads from both top candidates with Sethi and Hagerty trading sharp criticisms.
Sethi, a medical doctor, sought to paint his rival as an establishment candidate given Hagerty's previous support of Jeb Bush as well as his work on Mitt Romney's 2008 campaign and 2012 transition team.
Meanwhile, Hagerty's attacks focused on Sethi's lack of previous involvement in Republican politics as well as past donations to Democrat candidates in an effort to characterize him as a "phony Republican."
Both of them sought to align themselves with President Trump. However, Sethi's attempt to distance himself from other GOP leaders, including Senate Majority Leader Mitch McConnell who supported Hagerty in the race, handicapped his campaign.
President Trump himself tweeted three times in support of Hagerty over the last year and participated in two tele-Town Hall events with him where he voiced his endorsement of his former ambassador by saying the candidate agreed with his vision for government.
"As your next senator, Bill will be a stalwart defender of our conservative values," said the president. " He's proudly pro-life and pro-family and pro-gun…he's gonna be defending that Second Amendment all the way."
Hagerty is now widely expected to join the Senate following the November election with analysts believing Tennessee will remain red this year. The state has not elected a Democrat senator in 30 years since Al Gore defeated William Hawkins in 1990.
During his acceptance speech, Hagerty vowed to focus on issues often featured in President Trump's speeches, including curbing illegal immigration, boosting American manufacturing and standing up to China. This emphasized his connection to the president.