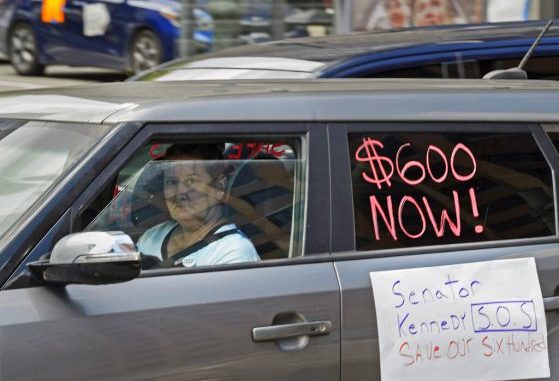 OAN Newsroom
UPDATED 9:55 AM PT — Friday, July 31, 2020
Enhanced unemployment benefits are set to expire on Friday, yet Congress continues to debate what will be included in the upcoming coronavirus relief bill.
Lawmakers were optimistic the pressure of the deadline would force House Democrats and Republicans to come to agreement, but both sides remain at odds. House Democrats want to extend the boost in unemployment benefits, while Republicans would rather decrease the aid in order to incentivize Americans to return to work.
"Many of my members think we have already done enough. They are deeply concerned. It is understandable about the size of our national debt, which is now the size of our economy for the first time since World War II. So, I do have a reasonable amount of members who don't think we ought to do another package." – Mitch McConnell, Senate Majority Leader (R-Ky.)
McConnell has arranged a debate on the Senate floor next week regarding the unemployment benefits.
During Friday's White House briefing, Press Secretary Kayleigh McEnany and Chief of Staff Mark Meadows slammed Democrats for rebuffing at least four proposals to extend the benefits.
According to McEnany, Democrats rejected an offer for a one-week extension of those same benefits.
"We've made several proposals, as Mark Meadows just said to you. How many proposals have the Democrats made? Zero. If you want to know where their true intentions lie, look no further than the Martha McSally bill that was presented. It would have extended the $600 employment insurance. It was rejected by Chuck Schumer, and that was a plan the president was willing to endorse." – Kayleigh McEnany, White House Press Secretary
She went on to say "we're passionate about making sure Americans are taken care of when it comes to unemployment and preventing evictions during the pandemic."
The extra $600 per week Americans have been receiving since late March will expire at midnight.