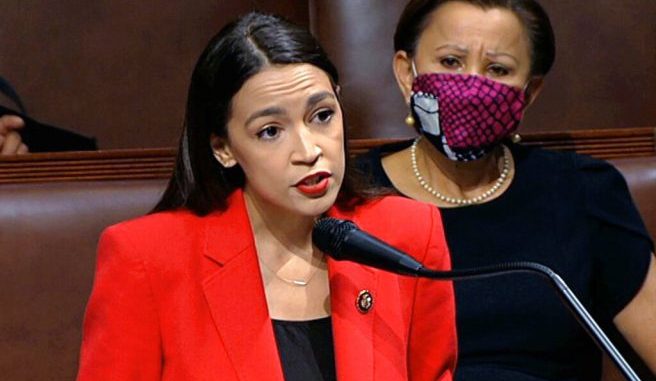 OAN Newsroom
UPDATED 2:00 PM PT — Tuesday, July 28, 2020
Rep. Alexandria Ocasio-Cortez (D-N.Y.) introduced a pair of amendments aimed at eliminating funding for military recruiters at high schools and on digital streaming platforms like Twitch.
The New York congresswoman has argued that the military targets minority high school students. She went as far as to call it a predatory attack on disadvantaged children.
Ocasio-Cortez said funding should be redirected to give information and access to trade schools, colleges and post-graduate opportunities instead. The Democrat lawmaker has claimed that as a result of these recruitment practices the military feels, for many low income students, as their only option.
The freshman lawmaker also pointed to the Marine Corps recent pause on Twitch gaming operations as a signal to other branches of the military to stop the practice all together, even though they have said it has recently become harder to find recruits.
According to a Council on Foreign Relations report, black Americans make up a greater percentage of Navy, Air Force and Army personnel than they do in the civilian workforce. Additionally, Hispanic Americans make up a greater percentage of Marine Corp personnel than they do in the civilian workforce.
The same study also showed around 40 percent of Army, Navy and Air Force enlisted personnel are between the ages of 17 to 24 years old. The majority of military recruits also come from households earning less than the average American family income.
Critics have said her claim about the need to provide students with more educational opportunities has already been a sales pitch of the U.S. armed forces for many years.
In August of 2009 the post-9/11 GI bill went into effect, which offered tuition assistance for all military veterans. The bill promises to pay all public and in-state tuition as long as it's under the cost of the state's most expensive public school.
According to a National Survey of Veterans poll, nearly 68 percent of veterans have said they have earned a degree or certificate while receiving VA benefits. When compared to the 33 percent of working Americans who have college degrees, this demonstrates a substantive educational advantage for veteran students.
Ocasio-Cortez has argued that the military should stop recruiting at high schools and on digital platforms where their target audience is more impressionable.
However, reports show more opportunity is being provided to lower-income and minority students at a much higher rate by the military than would otherwise be presented in public schools alone.