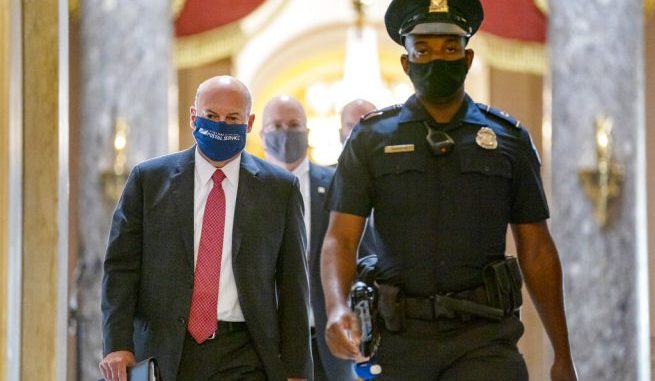 OAN Newsroom
UPDATED 11:10 AM PT – Sunday, August 16, 2020
Democrats have called on the postmaster general and the head of the Postal Service Board of Governors to testify in Congress. On Sunday, House Speaker Nancy Pelosi, along with other congressional Democrats, issued an invitation to Louis DeJoy and Robert Duncan to discuss "dangerous operational changes" within the USPS.
The House Oversight Committee has asked the two officials to hand over specific documents by Friday.
The hearing is expected to take place on August 24th, which happens to be the first day of the Republican National Convention.
This announcement came amid reports the House speaker may call an early end to the chamber's summer recess. According to reports, Pelosi has been mulling over whether or not to reconvene the House of Representatives.
Staffers claimed representatives could be called back within the next two weeks to tackle issues concerning the slowdown of the USPS. The House is currently expected to remain on recess until the week of September 14th.
Meanwhile, White House Chief of Staff Mark Meadows has refuted reports of Postal Service sorting machines being decommissioned. During a recent interview, he discussed the claims made in an internal document, which suggested the current postmaster general took around 670 letter sorting machines offline in several states across the nation.
According to Meadows, the decision to decommission machines was not made by the current administration, but was put in place by the Obama era postmaster general.
The chief of staff has emphasized these reports are not based in fact, but are instead a political narrative.
"There's no sorting machines that are going offline between now and the election," stated Meadows. "That's something that my Democrat friends are trying to stoke fear out there."
"There's no sorting machines that are going offline between now and the election," White House chief of staff Mark Meadows tells @jaketapper while discussing the debate surrounding Postal Service funding. https://t.co/F6hQkaEele #CNNSOTU pic.twitter.com/NWVDh9jdFr

— CNN Politics (@CNNPolitics) August 16, 2020
He also confirmed machines that were not already scheduled to be moved will stay in place.