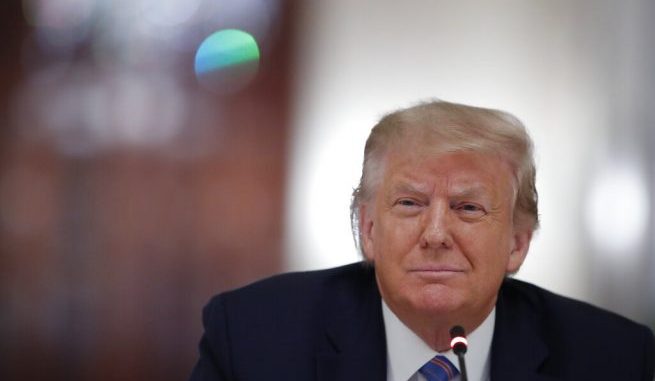 OAN Newsroom
UPDATED 1:08 PM PT — Wednesday, July 8, 2020
President Trump has denounced Dr. Anthony Fauci's assessment of coronavirus responses in the U.S. On Tuesday, the president said he disagrees with Dr. Fauci and believes the country will be in "very good shape" in the next few weeks.
"Well, I think we are in a good place, I disagree with him. You know, Dr. Fauci said don't wear masks, now he says wear them. He said numerous things: don't close off China, don't ban China, and I did it anyway. I sort of didn't listen to my experts and I banned China. We would've been in much worse shape." – Donald Trump, 45th President of the United States
This followed Fauci's claim that we are still "knee deep" in the first wave of the pandemic. The doctor added he wouldn't be surprised if we go up to 100,000 cases a day without more focused mitigation efforts.
"It's a serious situation that we have to address immediately."

In an online conference call with NIH director Dr. Francis Collins, Dr. Fauci explains how "we're still knee-deep in the first wave of this" in the U.S. pic.twitter.com/7KxLQvXtrc

— Bloomberg QuickTake (@QuickTake) July 7, 2020
The president has emphasized with everything they're working on, like the therapeutics coming out and potential vaccines, things are going to look better very soon. He also expressed optimism over the state of the nation's economy.
On Twitter, he announced "economy and jobs are growing much faster than anyone expected." He added "job growth is the biggest in history."
President Trump also noted "it's shaping up to be a good third quarter and great next year," citing the NASDAQ's new record high and rising 401k's.
Economy and Jobs are growing MUCH faster than anyone (except me!) expected. Job growth is biggest in history. China Virus Mortality Rate is among the LOWEST of any country. Shaping up for a good third quarter, and a great next year! NASDAQ at new record high, 401k's way up!!!!

— Donald J. Trump (@realDonaldTrump) July 8, 2020