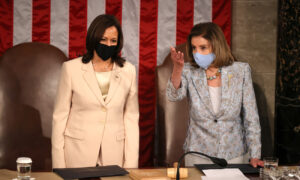 House Speaker Nancy Pelosi (D-Calif.) announced that the period in the House of Representatives allowing members to vote via proxy will be extended to July 3.
The current proxy voting period, established last year during the start of the pandemic caused by the CCP (Chinese Communist Party) virus—otherwise known as the novel coronavirus—was slated to expire this Wednesday.
In a brief note to House members on Monday, Pelosi wrote: "In light of the attached notification by the Acting Sergeant-at-Arms, in consultation with the Office of Attending Physician, that a public health emergency is in effect due to a novel coronavirus, I am hereby extending the 'covered period' designated on January 4, 2021 … until July 3, 2021."
The attending physician for the House, Brian P. Monahan, recently eased mask-wearing in the Capitol. However, he has told lawmakers they have to wear them in the Hall of the House and in committee meetings until members are "fully vaccinated," according to a website update.
On Monday, House Republicans said Pelosi should restart normal congressional operations and asserted that the vote-by-proxy initiative has resulted in "ineffective remote procedures," according to a letter obtained by several news outlets.
"While we appreciate that the COVID-19 crisis yielded unprecedented circumstances, there is simply no scientific or public health need to continue entertaining these restrictive practices," the lawmakers wrote. "We have accomplished an incredible milestone in defeating the virus, now we must serve as a model for our nation to restore, rebuild, renew, and resume America."
It came after the U.S. Centers for Disease Control and Prevention (CDC) last week recommended easing mask guidelines for individuals who are vaccinated indoors and outdoors in most circumstances.
Pelosi, however, said she would keep the mask mandate on the House floor. Republican lawmakers criticized the move, with Rep. Bob Gibbs (R-Ohio) and dozens of other House Republicans saying that she should resume normal voting procedures and drop the mask requirement after the CDC's update.
"The @CDCgov guidance today shows its time for Congress to practice what it preaches. There is no reason the House of Representatives should not be fully open and returned to normal operations. Enough with the Mask-erpiece Theater," Gibbs said in a tweet last week.
And in a letter, Gibbs and the other GOP lawmakers argued that Congress "must serve as a model to show the country we can resume normal life through vaccination. Let's follow the science and get back to work."