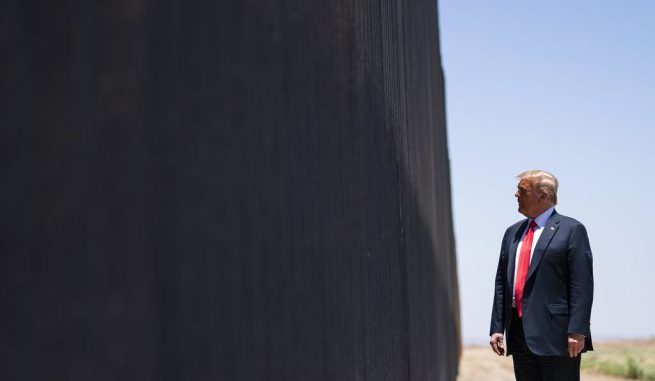 OAN Newsroom
UPDATED 7:31 AM PT — Tuesday, July 7, 2020
According to President Trump, the U.S.-Mexico border wall is making headway. On Monday, he tweeted that officials are seeing great numbers at the southern border while also touting the progress made on the wall's completion. The president also warned that Democrats want open borders, which he said would be dangerous.
At the end of June, President Trump visited the border wall to celebrate 200-miles completed. He previously stated the majority of the wall would be finished by the end of the year.
Wall is moving fast in Texas, Arizona, New Mexico and California. Great numbers at the Southern Border. Dems want people to just flow in. They want very dangerous open Borders! https://t.co/gGuYzpTa9t

— Donald J. Trump (@realDonaldTrump) July 7, 2020
Meanwhile, international students studying in the U.S. may have to leave the country in a new rule announced by U.S. Immigration and Customs Enforcement (ICE).
On Monday, ICE issued a statement informing students from other countries they have to leave the U.S. if their classes are completely online. The rule states that if they do not leave the country then they could be deported.
This comes as several universities are conducting their curriculum remotely in response to the coronavirus pandemic. Students will be allowed to stay in the country if part of their coursework is carried out in person or if they transfer to in-person institutions.