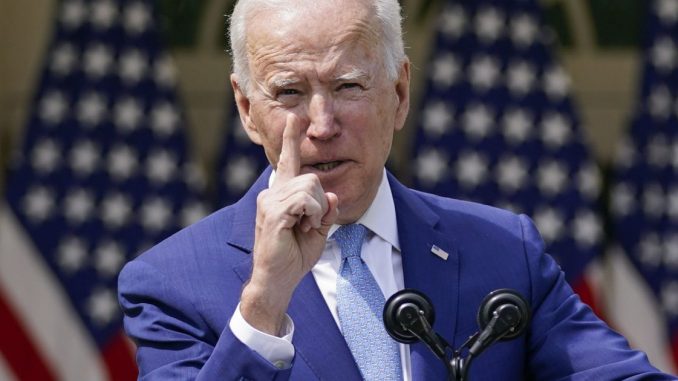 OAN Newsroom
UPDATED 12:45 PM PT – Thursday, April 8, 2021
Joe Biden announced plans to address gun violence by pushing for tighter restrictions. In the Rose Garden Thursday, Biden called U.S. gun violence an "epidemic" and an "international embarrassment." His new orders tackle so-called "ghost guns," which are usually homemade or 3D printed and are known to not have serial numbers.
Biden has then asked the DOJ to mandate tougher rules regarding pistol braces and called for a ban on assault weapons and high-capacity ammunition. He has also proposed removing liability protections for gun manufacturers.
"Gun violence in this country is an epidemic and it's an international embarrassment"

US President Joe Biden outlines a set of measures to tackle gun violencehttps://t.co/bsJQhu7vB4 pic.twitter.com/NhIGqVC4Og

— BBC News (World) (@BBCWorld) April 8, 2021
During his announcement, Biden attempted to downplay conservative concerns over infringing on the Second Amendment.
"There are phony arguments suggesting that these are Second Amendment rights at stake for what we're talking about," Biden claimed. "But no amendment — no amendment to the Constitution is absolute. You can't yell 'fire' in a crowded movie theater and call it freedom of speech. From the very beginning, you couldn't own any weapon you wanted to own. From the very beginning the Second Amendment existed, certain people weren't allowed to have weapons. So the idea is just bizarre to suggest that some of the things we're recommending are contrary to the Constitution."
Ahead of the announcement on the new orders, House Minority Leader Kevin McCarthy said the White House was attempting to trample over constitutional Second Amendment rights given to Americans.
President Biden has ordered the DOJ to issue new rules that will surely result in unconstitutional overreach. Republicans will strongly oppose and pursue every option—be it legislative or judicial—to protect the right to keep and bear arms from infringement by this Administration

— Kevin McCarthy (@GOPLeader) April 8, 2021
He added, Biden is soft on crime, but is able to infringe on the rights of law-abiding citizens.