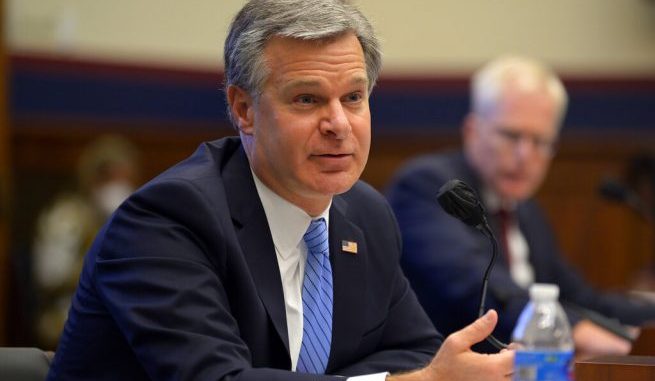 OAN Newsroom
UPDATED 5:25 PM PT – Thursday, September 17, 2020
The head of the Federal Bureau of Investigation has reaffirmed Antifa is real and is at the center of a handful of investigations. FBI Director Christopher Wray testified before the House Homeland Security Committee on Thursday, where he stated terrorism remains a top priority for the bureau.
He noted they are investigating not only international terrorist groups, but also homegrown violent extremists in the U.S. When asked about the recent protests across the country, Wray said investigations have been opened into certain individuals who participated in these demonstrations.
"Although the majority of protesters have been peaceful, we have opened investigations on individuals involved in criminal activity at these protests, some of whom adhere to violent extremist agendas designed to sow discord and upheaval," he explained.
He went on to clarify that the FBI doesn't investigate groups based on ideology. However, when the ideology leads someone to pursue violence, he said the agency won't hesitate to take appropriate action.
When asked specifically about Antifa, which has frequently been dismissed by top Democrats as a myth, Wray noted the bureau views Antifa as more of an ideology or movement.
"Antifa is a real thing," he said. "It's not a group or an organization, it's a movement or an ideology."
He reiterated the bureau has been pursuing domestic terrorism investigations involving people who self-identity with Antifa.
"We have any number of properly predicated investigations into what we would describe as violent anarchist extremists," he added. "Some of those individuals self-identity with Antifa."
Wray's description of Antifa as an ideology was criticized by Texas lawmaker Dan Crenshaw, who pointed out there have been 550 declared riots stoked by Antifa and Black Lives Matter groups so far.
"This is an ideology that has trained its members, makes shield wall phalanxes to attack federal officers, formed an autonomous zone in an American city and besieged a federal courthouse in another," stated Crenshaw. "So it just seems to be more than an ideology."
Wray noted while the activity of the individuals under investigation may come close to meeting the definition of domestic terrorism, there unfortunately isn't a domestic terrorism offense on the books. This means these citizens can't be charged specifically with domestic terrorism.
The FBI director has said this is why the agency is instead pursuing explosive firearm and rioting charges against these individuals.