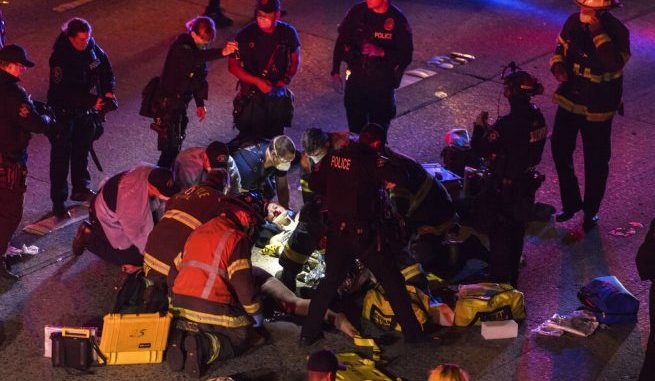 OAN Newsroom
UPDATED 11:11 AM PT — Monday, July 6, 2020
Local Seattle Anitfa groups have identified the man who crashed into protesters early Saturday morning. The group is spreading the suspect's name and photo on the internet, while also calling him a "racist monster."
The suspect, a black male, was driving a white Jaguar down the Interstate 5 freeway when he crashed into a crowd of protesters, in turn, hitting two women. One of the women, 24-year-old Summer Taylor, later died at a nearby hospital. The other victim, 32-year-old Diaz Love, remains in critical condition.
The driver attempted to flee the scene, but was stopped after another protester chased him in his car for nearly a mile. Washington State patrol arrested the suspect upon arriving to the scene.
Video of me chasing the driver of the hit and run on i5south tonight. Shortly after the video ends I was able to box him in until PD arrived. This was not an accident. Officers telling me he had to come wrong way on an offramp to even make it onto i-5. #seattleprotests pic.twitter.com/J8aTcsB3wG

— Coveglass (@Coveglass2) July 4, 2020
Authorities said the man asked if the protesters were harmed. Some officers speculate the driver entered the highway illegally as the road had been closed for more than an hour.
"He went around the series of vehicles blocking I-5 and went around on the shoulder where a group of pedestrians were standing," explained Capt. Ron Mead, Washington State Patrol. "We've worked tirelessly to separate motorists from pedestrians, fearing a tragedy like this could very well happen."
It remains unclear if the suspect had a motive, but police said the driver was not impaired. The suspect remains in custody at King County Correctional Facility for two counts of vehicular assault.
Saturday's protest marked the 19th day of demonstrations occupying the highway in Seattle. Following the accident, Washington State Patrol announced protesters marching on the highway will be arrested from now on.
Authorities are still investigating the incident and the suspect faces a court hearing Monday.