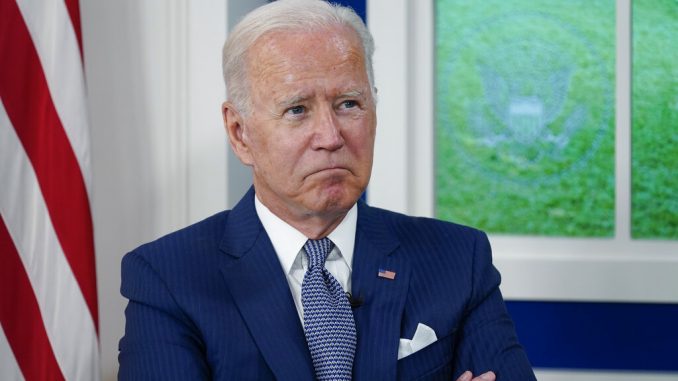 OAN Newsroom
UPDATED 7:45 AM PT – Thursday, September 23, 2021
A group of House Republicans have filed articles of impeachment against Joe Biden. Following the move on Wednesday, Rep. Bob Gibbs (R-Ohio) said the Democrat is in "clear violation of his duties."
"It's clear the President is not up to the job, that his entire administration is willing to thumb its nose at the Constitution. Though (Nancy) Pelosi's House will not hold the President accountable, it's incumbent upon House Republicans to call out his egregious violations of his oath of office."

— Rep. Bob Gibbs (R-Ohio) 
The Ohio lawmaker criticized Biden's handling of the southern border, while noting his "willful negligence" of the crisis is a failure to maintain and defend American sovereignty.
White House Press Secretary Jen Psaki has even admitted she does not recall a time Biden has been to the border. The question at Wednesday's press conference alleged there was no record of Biden visiting the border even though he was dubbed former President Barack Obama's "border czar" during his vice presidency.
WATCH: Peter Doocy asks Jen Psaki if Joe Biden has *ever* been to the border, even as vice president or senator.

Psaki doesn't know if when he's ever been at all. #BidenBorderCrisis pic.twitter.com/H1hMMA5p0I

— John Cooper (@thejcoop) September 22, 2021
Kamala Harris now occupies that unofficial title and has yet to visit Del Rio, Texas amid the migrant crisis. Despite the apparent lack of attention to the border from either official, Psaki claimed the crisis is a result of a failed system worsened by the previous administration.
Meanwhile, Senate Minority leader Mitch McConnell (R-Ky.) said the southern border crisis is a "textbook failure of presidential leadership." On Wednesday, the Kentucky lawmaker stressed citizens deserve better as do the migrants who were "lured into nightmarish conditions" by Democrat policies.
America is watching a terrible sight unfold on our southern border. A textbook failure of presidential leadership. Our citizens deserve better and so do the vulnerable people who have been lured into nightmarish conditions by Democrats' misleading messages and failed policies.

— Leader McConnell (@LeaderMcConnell) September 22, 2021
His comments came as reports indicated more Haitian migrants were headed to the southern border, adding to the roughly 8,000 migrants still camped under the bridge in Del Rio.
On top of this crisis, Rep. Gibbs also pointed to Biden's attempts to restore the eviction moratorium while slamming Biden for what he called a violation of the separation of powers as the order was struck down by the Supreme Court. He asserted these efforts are "clearly unconstitutional actions."
The Republican representative is joined by four others, including Rep. Andy Biggs (R-Ariz.), in formally calling for Biden's removal.