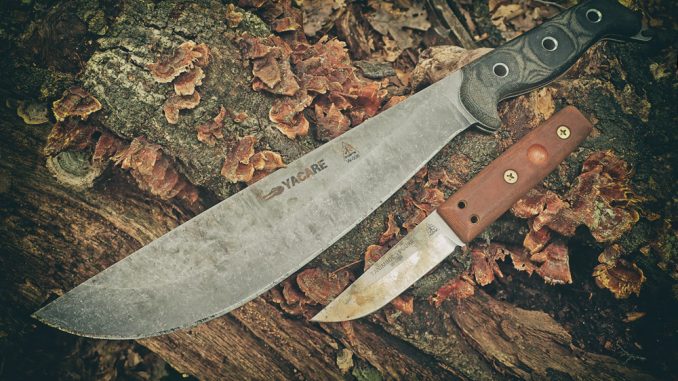 Sizing Up the Yacare 10.0 and Tanimboca Puukko
I have been associated with TOPS Knives since 1999, when it had just premiered the Steel Eagle. I opted for the 111 model with an 11-inch blade. It was a beast—and the start of my collection.
Before long, I read reviews of TOPS' knives by writer/photographer Jeff Randall, because he used TOPS knives in the Peruvian Amazon jungle. The reviews sparked a fire in me to buy more TOPS knives—and to also get into the "jungle" myself.
THROUGH THE YEARS, TOPS KNIVES HAS NOT ONLY BEEN A KNIFE COMPANY, BUT ALSO A PLACE TO OBTAIN SURVIVAL GEAR AND ACCESSORIES FOR LAW ENFORCEMENT, MILITARY AND SEARCH-AND-RESCUE PERSONNEL …
Through the years, TOPS Knives has not only been a knife company, but also a place to obtain survival gear and accessories for law enforcement, military and search-and-rescue personnel and, more recently, for campers and bushcraft enthusiasts.
By bringing in new staff and collaborating with custom knifemakers and leading outdoorsmen, Leo Espinoza, the president of TOPS Knives, has upped the company's game—big time. TOPS' two new offerings prove its willingness to go far outside the norm for designs and influence.
Yacare
Way back, in the days of the Woodsmaster series VHS instructional video tapes that starred Ron Hood, I was first exposed to the large knife/small fixed-blade combo for outdoor survival/utility. Ron always seemed to have the perfect "large chopper" for the heavy work while keeping a smaller, more practical knife for other tasks. Based on the videos I watched, most of the larger knives were from TOPS Knives.
TOPS' new large knife was influenced by some machetes that TOPS Knives General Manager Craig Powell saw on a recent trip to Costa Rica.
According to Craig, "I saw a bunch of guys carrying machetes, because they used them for work or were just used to carrying a machete. Most of them were the standard Latin American machetes, but I saw a couple that looked similar to the Yacare."
Yacare 10.0
Specifications 
Overall length:

15.5 inches

Blade length:

10.25 inches

Blade thickness:

0.1875 inch

Blade steel:

1095 carbon steel with acid wash finish

Handle:

Black canvas Micarta

Weight, knife only:

17.7 ounces

Weight, knife and sheath:

25.4 ounces

Sheath:

Black ballistic nylon
MSRP: $250
The next year, Craig went to South America on a jungle trip. That was when he realized he wanted to design the Yacare.
With a 10-inch blade, the Yacare falls into the medium-heavy machete or large knife category. The high grind and weight behind the 3/16-inch-thick blade stock gives it chopping and splitting power over a conventional thin-light machete, making it better suited for North American woods. TOPS uses its "go-to" 1095 high-carbon steel with a very attractive Acid Rain finish on the entire Yacare blade. The Yacare's overall length is 15.5 inches, and it weighs 25.4 ounces with sheath.
Like its name, "Yacare," which means "caiman" (a member of the alligator sub-family) in Spanish, it has a heck of a bite! Where I live in the summer, parts of the woods are covered with hanging vines full of water that is perfectly safe to drink. Needing a quick drink while working in the woods at my camp, I tried out the shearing power of the Yacare on some hanging vines. They were thick, woody and very coarse, with bark; yet, the Yacare chopped through, often with just two swings, because these weren't the soft, green vines found in the jungle.
Tanimboca Puukko
Specifications 
Overall length:

7.75 inches

Blade length:

3.5 inches

Blade thickness:

0.1250 inch

Blade steel:

1095 carbon steel with tumble finish

Handle:

Tan canvas Micarta

Weight, knife only:

5.2 ounces

Weight, knife and sheath:

7.6 ounces

Sheath:

Brown leather
MSRP: $150
I drank from the vines and then set them aside to drip into a metal container for later. Once the vines were depleted of water, I used the blade to scrape off as much dry bark as I could for a fire. The bark is stiff and fibrous, but not enough to catch a spark freely, so the bark was set aside for use as kindling.
I stabbed the Yacare into a wooden stump and drew some dry poplar sticks back against the edge to make fuzz sticks thin enough to be used as tinder and kindling. This technique is great for making fine, thin, curly shavings with larger blades, because the lighter object is moved against the heavier object. Control and a light touch are needed for this, so the results outweigh the tendency of holding the blade to try to make fuzz sticks.
THE KNIFE [TANIMBOCA PUUKKO] FIT WELL AND PERFORMED FLAWLESSLY IN A CHEST-LEVER GRIP WHILE THE POMMEL WAS NESTLED IN MY PALM—COMFORT ONLY ACHIEVED WITH A ROUNDED OVAL, CROSS-SECTIONED HANDLE DESIGN.
When it was time to ignite the tinder, I braced the Yacare blade over a piece of wood and placed the tinder underneath at a perfect striking distance to catch sparks from my ferrocerium rod. Again, moving the smaller and lighter of the two tools was the best way to do this: I drew the ferro rod back against the blade to shower sparks onto the tinder. This part of the large blade isn't used as much for fine detailed work, so any edge-dulling or -rolling wouldn't make any difference with a chopper.
I gathered some oak and maple branches about the thickness of my wrist or lower leg. I chopped with the Yacare and used a saw to get the ends flat enough to stand up on a stump for splitting. The weight of the Yacare split pretty well on sections no longer than the length of the blade. From there, it was easy to reduce some of the wood down to finger thickness.
Some large poplar branches were sectioned to feather with the Yacare in a reverse-draw-knife position, utilizing a section of the blade near the handle. I pinched the top of the blade spine with my left hand and held the Yacare by the handle with my right. Then, I slowly feathered the light wood until I had some good curls on the stick. That is the best way to use a large blade for fine work.
Real-World Treatment
I spared no quarter with the Yacare. I rarely used the sheath, except when initially moving around the woods; but, much as in Latin America, machetes/large knives are carried in the hand and stored leaning up against a tree, safely out of the way.
Needless to say, the Yacare shows wear and tear marks from hard use and the elements (I left it outdoors for more than four months in humidity, rain, heat and moisture). I chopped vines low to the ground and trimmed some low vegetation, causing the blade to come in contact with stones, much as a machete in Latin America would.
I also used the forward edge to strike a ferrocerium rod up near the belly, where usually only impact from chopping is done. I know from experience that a nick here and there on a chopping blade isn't going to hinder the usefulness or hurt anyone's feelings.
All in all, the Yacare proved itself every step of the way to be a hard-working tool and indifferent to being treated as such.
Tanimboca Puukko
This knife has a very interesting story and lineage. Knifemaker Goran Mihajlovic, born in Serbia, grew up in Germany and has been living in Colombia for the past 20 years. To add to the diversity of this knife's background, most of what he makes are Scandinavian-shaped Puukko knives.
TOPS collaborated with Mihajlovic to produce the Tanimboca Puukko. It is made with tan canvas Micarta scales with red liners, a bow drill divot, tumbled finish on the high-carbon 1095 steel blade and a brown leather sheath. Its overall length is approximately 7.75 inches, with 3.5 inches of cutting edge on the 0.130-inch-thick blade.
The classic Puukko blade shape has an almost completely flat spine with the edge trailing up to it at a very slight drop. The 90-degree spine is sharp and is a tool all by itself—for scraping soft wood for tinder and a ferrocerium rod for sparks. The bow drill divot works well and is one less component to make for a bow drill set.
WITH ITS YACARE AND TANIMBOCA PUUKKO, TOPS KNIVES HAS MADE TWO HARD-WORKING TOOLS MEANT FOR REAL USE AND NOT FOR TAKING UP SPACE IN A "SAFE QUEEN" CASE.
Having spent three summers in Scandinavia, as well as having used various authentic Puukko knives over the years, I found the Tanimboca Puukko to be right at home in my hand … and in my camp.
It is not a traditional Puukko with a stick or rat-tail tang, so the added weight of the full tang is noticeable. In addition, Micarta adds a bit more weight over the traditional birch scales. Design-wise, everything else is very Scandinavian. I have yet to come across a Finnish-made Puukko that comes standard with a 90-degree spine, so TOPS is ahead in that regard.
The Fire-Maker's Friend
I went to work with this snazzy, little slicer and made tarp stakes, pot lifters, eating utensils, fuzz sticks and fires.
As far as survival and wilderness living are concerned, fire is paramount. To get back to basics and primitive fire-making, I decided to make a bow drill set using the Puukko. The bow was made of dried witch hazel, but the rest was made from poplar wood. One continuous piece was used, and two spindles (drills) were harvested from the smaller branches.
I carved the two spindles, each side a little differently, like a pencil. Thicker parts were split for the hearth board. The Puukko's tip was used to dig out the wood before burning-in. After the initial burn-in, I used a small saw to help create the notch. Additionally, the sharp, 90-degree spine scraped poplar to form a secondary line of tinder behind my jute twine nest. Fuzz sticks were made for kindling to help catch the next step (fuel) ablaze.
The Puukko had no problems fuzzing soft wood or hard northern red oak. The secondary bevel on the modified Scandinavian grind worked just as well as a zero-ground Scandinavian knife.
For the handhold, I simply used the bow drill divot built into the Puukko's scales. I just added a dab of Carmex lip balm for lubrication inside the divot. While the fire was roaring, I waited for a nice, glowing bed of coals while my water boiled. I also made a quick figure-four deadfall trap out of witch hazel with the Puukko. The knife fit well and performed flawlessly in a chest-lever grip while the pommel was nestled in my palm—comfort only achieved with a rounded oval, cross-sectioned handle design.
The Tanimboca Puukko was my most-used knife during the summer of 2017. Its size and blade geometry are well suited for the tasks described above—and many more.
Real-Use Offerings
Both offerings from TOPS Knives proved to be well designed for the environments they were meant for. The steel had minor surface rust, as would be expected in the humid summer months in the Eastern woodlands. Sharpening was a matter of using a coarse/fine EZ-LAP diamond stone. I used the coarse surface for the dings in the Yacare and the fine surface for touching up the Puukko. The sheaths were perfect for each model … but I would really like to see the Tanimboca Puukko sheath with a firesteel loop.
With its Yacare and Tanimboca Puukko, TOPS Knives has made two hard-working tools meant for real use and not for taking up space in a "safe queen" case.
Staying Keen
Simple high-carbon steel (as is found on most TOPS Knives) is easier to keep sharp than most steels, especially stainless.
An EZ-LAP double-sided diamond hone (coarse and fine) will work for almost every type of field sharpening. Working blades require working edges and regular sharpening.
Where most people go wrong when sharpening a blade is by using too much pressure. Lighter is better unless there is a major nick. A few light glances are better than 10 hard grinding passes on a stone. No matter what the method might be—whether stropping on sandpaper or leather away from the edge or toward the edge on a stone—lighter is better!
SOURCES
TOPS Knives
(208) 542-0113
www.TOPSKnives.com
EZE-LAP Diamond Products
(800) 843-4815
www.Eze-Lap.com
Editor's note: A version of this article first appeared in the April, 2018 print issue of American Survival Guide.