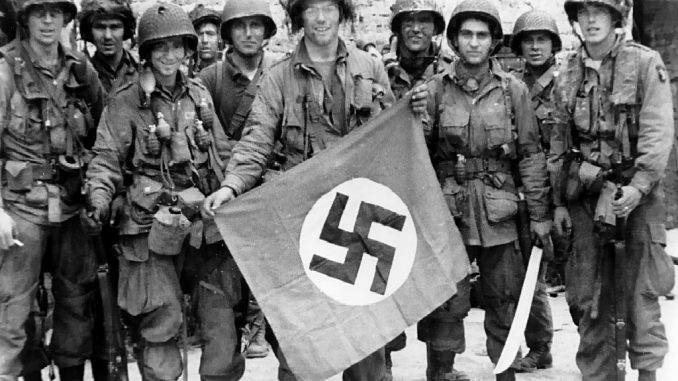 Greeley, PA — While there has been a slew of customized firearms to commemorate WW2 on the market, they're mostly comprised of the M1911 pistol, the M1 Garand and the Thompson SMG. There are fewer commemorative M1 Carbines, and Auto-Ordnance, a subsidiary of Kahr Arms, is adding an M1 Carbine to that relatively short list as a tribute to those who served and sacrificed in WW2. Auto-Ordnance you'll note is also the manufacturer of the over-100-year-old Thompson or "Tommy gun". The commemorative M1 Carbine is simply dubbed "Paratrooper Airborne Custom WW2" and comes with a 15-round magazine.
The carbine is actually a joint effort created by Auto-Ordnance and Outlaw Ordnance, with the latter being a company much more involved in churning out heavily-customized guns. This M1 Carbine is truly a nostalgic piece, featuring laser-engraved markings like a battle-worn American flag and the words "St. Michael pray for us" on the left side.
On the right side of the carbine, a laser-etched image of an American paratrooper, the Airborne logo and a C47 with paratroopers jumping out are clearly seen. To add to the nostalgic flavor of this rifle, a folding wire stock based on the original design is installed. On the website, the text describes this commemorative rifle:
"Saint Michael is the patron of many heroic professionals, included amongst them paratroopers. These brave members of America's elite airborne units step into the unknown with every jump. Each time not knowing what enemy lays below or even if they will make it to the ground and the battle that awaits. Kahr Firearms Group pays tribute to the brave airborne warriors of WWII, with this custom laser engraved version of our paratrooper M1 Carbine. On the forearm is the battle-worn American flag. Adjacent is St. Michael, with the text "St. Michael pray for us". A paratrooper, parachutes, and detailed C-47 transport aircraft are engraved on the opposite side. The stock is an authentic reproduction of the original folding version issued to airborne soldiers. As with all Auto- Ordnance M1 Carbines, the wood is high quality walnut, and all metal parts are Parkerized. It is an accurate, reliable, easy to shoot rifle in soft recoiling .30 Carbine. This WWII commemorative continues the Auto-Ordnance tradition of providing high quality reproductions of American military firearms for today's shooter. The Auto-Ordnance M1 .30 Caliber carbine is produced in Kahr's state-of-the-art manufacturing plant in Worcester, MA. The Auto-Ordnance carbines are produced using newly manufactured parts on high-precision computerized machinery."
The specs of the rifle are as follows:
With an MSRP of $1,518 and a 1-year warranty, do you think this is a worthy WW2 tribute to add to your collection? Will you consider this as a good stocking-stuffer for yourself or your loved ones this Christmas? Let us know what you think in the comments!