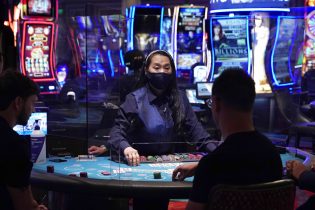 OAN Newsroom
UPDATED 10:35 AM PT — Tuesday, June 30, 2020
Two hospitality unions in Las Vegas, Nevada are suing popular casinos for allegedly failing to protect employees during the coronavirus pandemic.
Members of the local culinary and bartenders unions filed a lawsuit against Signature at The MGM Grand, The Bellagio and Harrah's casino Monday. This comes just weeks after Las Vegas allowed the strip to reopen.
The suit alleged the casinos are not notifying employees when coworkers get sick and called the current rules for responding to infected workers "dangerously inadequate."
"I go back to work…three days later, you know, I'm sick on the fourth day," said Sixto Zermeno, a bellman at The Signature at the MGM Grand. "Both co-workers that I had worked with continued to work, they weren't sent to get tested after they knew that I was positive."
Several companies have been accused of not enforcing coronavirus guidelines and putting the lives of guests, employees and their families in danger.
Union representatives have said the lawsuit is only the beginning and that they will continue to gather evidence of "unsafe working conditions."