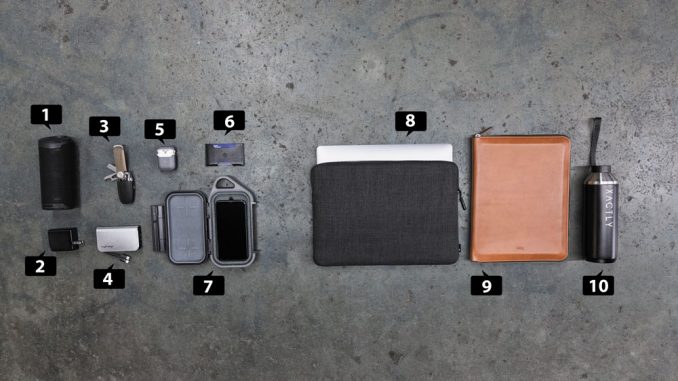 We live in a digital age where relying on technology and innovation helps improve productivity. Work smarter not harder with the aid of these everyday tech essentials.

1. Scosche BoomBottle MM
An all-around great Bluetooth speaker packed with features including a magnet to mount to metal surfaces, a built-in bottle opener, and it comes with a carabiner and Type-C charging cable. The speaker is waterproof and dustproof and provides up to 12 hours of music playback.
MSRP: $100
scosche.com
2. Scosche PowerVolt Power Delivery
Time is money and this convenient dual-port charger is fast and compact. The 18W USB-C port can charge the latest phones up to three times faster than a standard USB charger, while the 12W USB-A port delivers more than two times the standard power to the second device.
MSRP: $35
scosche.com
3. Orbitkey Key Canvas Organiser, USB 3.0, and Multi-tool
Help keep your keys neat and organized, while keeping a few essential tools on hand such as their multi-tool and USB 3.0. This system has the ability to hold multiple keys or other Orbitkey accessories.
MSRP: $28 (key organiser) / $20 (USB 3.0) / $12 (Multi-tool)
orbitkey.com
4. myCharge HubPlus Universal Charger
Technophiles love their devices and this newly redesigned portable charger will become a staple for those who love convenience. With an integrated Apple Lightning cable, micro-USB cable, and an added USB port, it'll charge multiple devices at once.
MSRP: $80
mycharge.com
5. Incase Metallic Case for AirPods
Protect your charging case and give it a bit of style with this case. The lightweight form-fitting AirPods case protects the glossy charging case from scuffs and scratches as well as adds a layer of drop protection with the polycarbonate shell.
MSRP: $30
incase.com
6. Capsule Ace Wallet
Tech geeks have embraced mobile and digital payment options such as Apple Pay, PayPal, and Venmo. This ultra-minimalist and well-designed wallet holds just the absolute essentials: Two to four cards and some cash to help keep your pockets slim.
MSRP: $65 (prices vary)
capsulewallets.com
7. Pelican G40 GoCase
Keep your tech and small valuables protected with this personal utility case that is waterproof, dustproof and crushproof. Perfect for smartphones, cables, memory cards and more. You'll have peace of mind no matter what the elements throw at you.
MSRP: $40
pelican.com
8. Incase Slim Sleeve with Woolenex for MacBook Pro
Help protect your valuable MacBook Pro from bumps and scratches during transport with this minimal and durable sleeve. Crafted with Woolenex, not only is this sleeve long-lasting, but looks good to boot.
MSRP: $50
incase.com
9. Bellroy Work Folio A4
Despite living in a digital age, we know that some things are still better as an analog experience. For those who still prefer to take notes by hand, this beautiful leather compendium can hold a notebook, tablet, cables, cards, pen, and more to enhance the work experience.
MSRP: $299
bellroy.com
10. Xactly Hydrogen 20
When it comes to technology, water is not a friend. This double-wall, vacuum-sealed, and copper-lined stainless steel water bottle will not only keep your beverages cold or hot for long stretches of time but is also leak-proof to prevent accidental spills.
MSRP: $30
xactlylife.com
Editor's note: A version of this article first appeared in the EDC Buyer's Guide Winter, 2020 print issue of American Survival Guide.