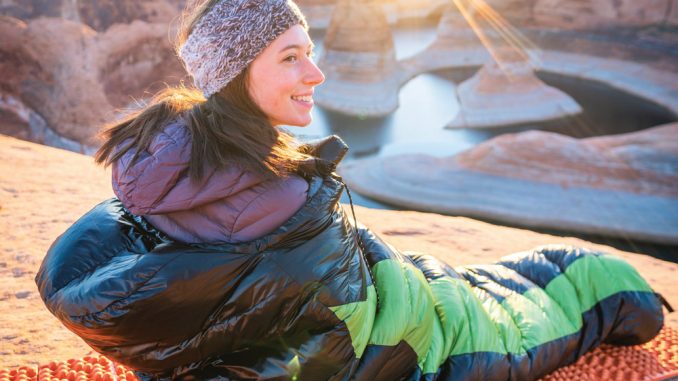 With Christmas right around the corner, many of you are looking for the perfect gift ideas. This month, we have a diverse selection of new products that are sure to fit your prepping, hunting, camping and overlanding needs.
Whether you need a new knife, winter clothing, a new sleeping bag or just a way to organize and carry your kit, these products will be a welcome find under any Christmas tree!
All of the companies featured here are well respected manufacturers of high quality gear. You can rest assured you are spending your hard earned money wisely and will be purchasing gear that will last you many years to come.
TOPS Bull Trout Fixed Blade
Every year TOPS has a design challenge where employees compete for the chance to have one of their knife designs produced. For 2018 the design challenge was EDC, and the Bull Trout was the hands-down winner.
Designed by Martin Murillo, the Bull Trout was built with fishing in mind. It is small and light enough to be carried every day in its leather sheath and requires little to no maintenance. The blade is made from cryo-treated 154CM stainless steel, has an overall length of 6.1 inches and a blade length of 2.75 inches.  The handles are made from an attractive brown burlap Micarta, and the entire knife weighs in at only 3.1 ounces.
MSRP: $160
TOPSKnives.com

Zero Tolerance 0562Ti Folder
Zero Tolerance and custom knifesmith Rick Hinderer have collaborated once again to deliver a premium-quality Hinderer design at a more affordable price. The new 0562Ti sports a 3.5-inch blade made from premium CPM20CV stainless steel and features the famous Hinderer "slicer" grind.
The blade is a flipper design that rides on ZT's caged KVT ball bearing washers. The titanium frame lock uses a hardened steel lockbar insert and an integral lockbar stabilizer. The new titanium scales have been machined internally to achieve a weight of 5.3 ounces while still maintaining strength. The knife has been finished with a reversible extra deep pocket clip positioned for tip-up carry.
MSRP: $350
ZT.KaiUSAltd.com

Kershaw Decibel Folder
Sometimes a knife is as much about style as it is about function. The new Kershaw Decibel received some sleek, modern sci-fi-inspired design touches that not only look good, but enhance the user experience. The stainless steel handle is a frame lock design that has been treated with a titanium-carbo-nitride coating. The blue, hard anodized pivot collar and backspacer provide striking visual accents to the grey finish.
The frame is a see-through skeletonized design that not only reduces weight, but provides excellent grip. The 8Cr13MoV blade is a 3-inch sheepsfoot design that manually opens via ambidextrous thumb studs. The spring steel pocket clip is fully reversible and orients the knife for tip up carry.
MSRP: $65.99
Kershaw.KaiUSAltd.com

Outdoor Vitals Atlas Hybrid Sleeping Bag
Outdoor Vitals is an industry leader in innovation and bringing premium quality gear to the consumer at a reasonable price.  For years, they have been working on combining the durability and water resistance of synthetic insulation with the properties of down. Their new LoftTek Hybrid insulation does just that.
The insulation used in the new Atlas sleeping bags combines 80 percent LoftTek synthetic insulation with 20 percent DWR-treated 800 fill power down to create a sleeping bag that has the weight and compressibility of a down bag while maintaining the ability to stay warm and lofted, even when soaking wet. The Atlas Hybrid is available in 0-, 15- and 30-degree (F) temperature ratings as well as Long/Wide size options.
MSRP: Starting at $129.97
OutdoorVitals.com

Yellow Birch Outfitters Peck Mountain Field Bag
The Peck Mountain Field Bag is built to withstand the rigors of combat and designed to blend in on city streets or in the woods. The main body of this do-it-all bag is built from 1000D Cordura brand nylon. DWR coating and urethane backing ensure the contents of the bag are well protected.
The double layer top flap is secured with two premium vegetable-tanned and oil-finished leather straps and solid cast brass buckles. The bag measures 16x12x4 inches and houses a well thought out system of internal and external pockets and straps that will hold everything from a 15-inch laptop, an umbrella or axe to water bottles, pens and pencils and most anything else you can think of.
MSRP: $249.99
YellowBirchOutfitters.com

Streamlight ProTac 90 EDC Flashlight
Streamlight has been an industry leader in producing high-quality lights for the civilian, military and first responder markets for decades. The ProTac 90 is their latest offering in this highly popular line of lights. The light features a new 90-degree head and switch and includes all the features that the ProTac line is famous for.
The 90 EDC retains its dual-fuel capability that allows it to run on a CR123 lithium or an AA battery. When using a lithium battery, the 90 EDC will produce 300 lumens on high and 40 lumens on low. The 90 EDC allows the user to customize output modes. As with all ProTac models, the light is IPX7 rated for water resistance and has been tested to 2 meters for impact resistance.
MSRP: $68
Streamlight.com

MatchPoint USA TAC-Book
MatchPoint USA is always looking for new applications for their proprietary Tufmax 720 mounting material. The new TAC-Book represents the latest installment in their line of innovative products. The TAC-Book is made from two Tac-AMPS joined together by three single wrap hook and loop hinges. Each panel is 5×3 inches and has a perimeter of open-sided mounting slots and a field of circular voids that are sized to accept Chicago posts and screws or shock cord.
The TAC-Book is fully customizable by the user but is ideally suited for mounting hard items on the outside while softer items can be sandwiched on the inside. The TAC-Book brings a level of accessibility and organization to items that might otherwise be loosely stored in a pocket or bag.
MSRP: $19.95
MatchPointUSA.com

Work Tuff Gear Lanzeta
Work Tuff Gear is a small Taiwanese company with big aspirations. They strive to design and produce premium grade knives for the soldier, law enforcement officer and outdoorsman using high quality materials and state of the art manufacturing processes, all while keeping costs at a minimum. Their new Lanzeta has been inspired by a traditional Filipino design.
The Lanzeta is a full-tang knife made from Japanese SK-85 carbon steel. It has an overall length of 13.8 inches and the acid-washed blade is 8.2 inches long. The full tang has been skeletonized to keep the weight a reasonable 14 ounces. And the handles are 3D machined G10 composite. Each knife is delivered with a high quality custom-molded Kydex storage sheath and a razor sharp, hand-finished saber grind convex edge.
MSRP: $135
WorkTuffGear.com

Streamlight Bandit Pro Rechargeable Headlamp
Many headlamps on the market will turn night into day at 100 meters. Unfortunately, these lights tend to be heavy, require lots of battery power and can be blinding at close range. The Bandit Pro Headlamp weighs in at only 1.6 ounces and uses a self-contained rechargeable lithium polymer battery.
The light is designed to provide a widely dispersed beam of light that is ideal for close-range work. The light produces 180 lumens on high and will run for 4.5 hours. On low, the light produces 35 lumens and will run for 21 hours. The headlamp features a push-button switch and charge and low-power indicators. It is IPX4 weather resistant and includes a visor clip, an elastic headband and a USB charging cable.
MSRP: $39.95
Streamlight.com

Tasmanian Tiger Modular Rifle Bag
The Tasmanian Tiger TT Modular Rifle Bag is constructed of Textreme 6.6, a textured 600 D polyester that is extremely robust and colorfast and polyurethane-coated for a weather-resistant finish. Made to withstand extreme environments and years of use, the padded rifle bag will hold a single long gun up to 40 inches long. It has two outside zippered pockets and a removable internal pouch as well as retention straps for the weapon.
The bag can be carried with the removable shoulder strap or with two carry straps, which accommodate vertical and horizontal carry. The bag measures 40x12x3 inches and weighs four pounds, three ounces. Available in Black or Olive.
MSRP: $189
TasmanianTigerUSA.com

WSI Sportswear  HEATR Socks
It has often been said that the key to long-term comfort is warm, dry feet. WSI Sports has been dedicated to providing the highest quality performance base layers to outdoorsmen since 1990. HEATR socks are designed to outlast both polyester and cotton socks.
Antimicrobial technology inhibits bacterial growth and ensures low odor. Most important, these socks use WSI's proprietary HEATR fabric to keep your feet warm in even the coldest conditions. HEATR fabric generates heat by expanding and heating up when it comes in contact with the skin. Since it is part of the fabric, it can never wash out.
MSRP: $30
WSISports.com

WSI Sportswear Arctic ProWikMax Long Sleeve Shirt
Staying warm in cold environments starts with a good base layer. The Arctic ProWikMax is not like other thermal base layers. The ProWikMax is body-mapped with thicker material in the base and thinner material in the gussets for ventilation and mobility. The mock turtleneck enhances warmth, all interior seams are flat and the inside of the fabric is brushed and softened for comfort. The material quickly wicks moisture away from the body and is antimicrobial to remove odor.
MSRP: $69
WSISports.com

Hill People Gear Factory Rail Hi-Lift Mount
Hill People Gear is famous for designing and manufacturing backpacks, bags and accessories to help people carry their equipment into the backcountry. The Factory Rail Hi-Lift mount is the first product offered for the Hill People Gear Mobility line of products. Aftermarket roof racks can be heavy and expensive and are often unnecessary for many backcountry travelers.
This new Hi-Lift jack mount can be bolted directly to existing factory roof rails on fifth-generation Toyota 4Runners or any rail system designed to accept 1-inch tall, 0.25-inch-thick backers. This mount has an extremely low profile and allows you to mount your jack without taking up valuable rail space. The black powder coated mounts are sold in pairs and delivered with premium grade 8 hardware.
MSRP: $65
HillPeopleGear.com

ITS Tactical Slimline Pouch
The new Slimline Pouch from ITS Tactical was designed to hold pocket-size items like cell phone, compass, electronics or the ITS Tactical EDC Trauma Kit. The cover consists of a fold-over lid with a 1.5-inch square web pull tab and a Velcro closure system. This ensures a snug fit for a variety of items of various heights and allows the pouch to be carried in most any orientation.
The pouch also features the ITS Tactical patented 4-Way Mounting System that allows the pouch to be mounted vertically or horizontally on any belt, vertically through MOLLE webbing or directly onto items like backpack shoulder straps via the VELCRO ONE-WRAP strap system.
MSRP:  $26.99
store.ITSTactical.com

ITS Tactical SPIE Pouch
The ITS Tactical SPIE Pouch is designed to be a compact, low profile system for carrying your escape and evasion kit. SPIE stands for Special Purpose Insertion Extraction. Measuring only 3.25×2 inches when closed, the SPIE Pouch was purpose-built to hold the ITS SPIE Kit and Lock Picks (sold separately), but can be used to organize common small EDC irems as well.
Due to its small size, the pouch can be carried in a pocket or on a belt.
Elastic closure loops allow the pouch to be belt mounted horizontally or vertically. The unique combination of nylon webbing and elastic straps provides a surprising amount of storage and organization in such a small package. The pouch is offered in black or coyote brown.
MSRP: $19.99
store.ITSTactical.com

Dark Angel Medical  HARD Case First-Aid Kit
Finding a premade first-aid kit that is filled with high quality, well thought out contents is no easy task. The Dark Angel HARD Case starts with an 11x12x4-inch gasket-sealed hard case. The contents are broken down into two categories. The general first-aid kit consists of ABD pads, gauze pads, surgical tape, triangular bandage, Steri-Strips, cloth adhesive bandages, alcohol swabs, shears, gauze roll, nitrile gloves, burn gel, a Mylar blanket and a Sharpie pen.
The Trauma module contains a chest seal, compressed gauze, a Gen 7 CAT tourniquet, QuikClot, a Mini Responder ETD and nitrile gloves. All components of the kit are made with premium materials, and there is plenty of room in the case to add your own custom components.
MSRP: $129.99
DarkAngelMedical.com
Editor's note: A version of this article first appeared in the December, 2019 print issue of American Survival Guide.