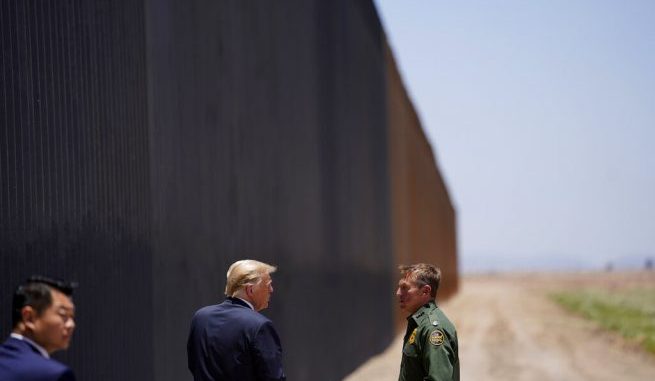 OAN Newsroom
UPDATED 6:59 AM PT — Wednesday, June 24, 2020
Acting Customs and Border Protection (CBP) Commissioner Mark Morgan is refuting the mainstream media's attempts to downplay ongoing wall construction along the U.S. southern border.
While speaking to reporters onboard Air Force One Tuesday, Morgan said more than 220 miles of new wall infrastructure has been built at the border. He stressed that the project includes surveillance systems, roads and support infrastructure as well.
His clarification came after the media claimed most of new wall construction takes place in areas where the wall had already existed. Democrats have also claimed the new wall is actually not new.
"That's just a false political narrative…from an operational law enforcement perspective, those are new miles of wall system that are going into the ground…all 220," he assured. "It's got integrated technology, lighting, access roads, all the accessories that go with the actual steel…the most important thing that Border Patrol agents on front line have asked for and the President delivered."
Today we commemorated the completion of over 200 miles of new border wall system across our Southern border. The border wall system is the backbone of border security. Without it, crime and gang activity go up as drugs and other contraband make their way north into the homeland. pic.twitter.com/z2wjWDIeet

— CBP Mark Morgan (@CBPMarkMorgan) June 23, 2020
The CBP commissioner added that the new wall system will greatly improve U.S. border security. Meanwhile, President Trump made a trip to Yuma, Arizona on Tuesday to tour the ongoing construction of the southern border wall and to commemorate the 200th mile of wall constructed.