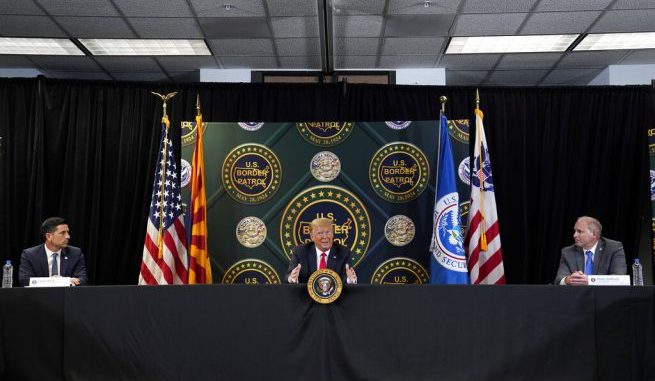 OAN Newsroom
UPDATED 6:44 AM PT — Wednesday, June 24, 2020
President Trump made a trip to Arizona to tour the ongoing construction of the southern border wall. He traveled to Yuma on Tuesday to commemorate the 200th mile of wall constructed at the U.S.-Mexico border.
The president described the new section as being "fool proof" and even took a moment to sign a portion of the recently built barrier.
"It is the most powerful and comprehensive border wall structure anywhere in the world," he stated. "It's got technology that nobody would even believe, between sensors and cameras and everything else."
During his visit, he also participated in a roundtable discussion with Arizona Republican officials Sen. Martha McSally, Rep. Debbie Lesko, Gov. Doug Ducey as well as local community leaders. President Trump touted his administration's efforts to deliver on his 2016 campaign promise.
"My administration has done more than any administration in history to secure our southern border, our border has never been more secure," he stated. "I think Doug can tell you that, anybody at this table can tell you that it's never even been close."
His visit comes as the White House is hoping to have more than 400 miles of wall built before the November election.
The president also highlighted the administration's success in combating illegal immigration, which he said has dropped significantly over the past year.
"During the past two months we've seen the lowest number of illegal border crossings in many years," said the president. "Illegal immigration is down 84 percent from this time last year."
Meanwhile, he spoke on continued efforts to contain the spread of coronavirus and discussed how the border wall has been a major advantage in the fight against the pandemic.
"Using our emergency public health authorities, we prevented a coronavirus catastrophe on the southern border (by) shutting down human smuggling and swiftly returning the crossers," noted President Trump. "Without these public health measures, the southern border would be a global epicenter of the viral transmission."