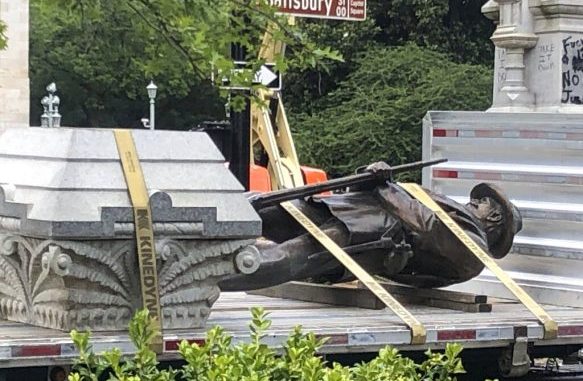 OAN Newsroom
UPDATED 7:39 AM PT — Tuesday, June 23, 2020
The White House is rejecting the latest Democrat attempts to rewrite history. During a White House briefing Monday, Press Secretary Kayleigh McEnany criticized protesters who defaced and toppled the statues of America's founding fathers and renowned peace activists.
"We're being told that George Washington's statue needs to come down and Thomas Jefferson's statue needs to come down," she stated. "Where do you draw the line?"
This came after Democrats called for a removal of statues honoring top confederate leaders. McEnany pointed out that anti-racism protesters appear to be confused over which statues they want taken down.
"What we're seeing across the country is really quite confusing because you're seeing statues defaced like Gandhi's statue defaced, and Ulysses s Grant statues defaced and abolitionist Netius Baldwin statue defaced," said the press secretary. "When people watch these statue defacements and beheading of some of these statues, like Chris Columbus, where do you draw the line?"
For his part, President Trump has denounced attempts to deface monuments and has called it a "disgrace." He has went as far to authorize arrests for statue vandalism and cited Veteran's Memorial Preservation Act as grounds for punishment.
…..This action is taken effective immediately, but may also be used retroactively for destruction or vandalism already caused. There will be no exceptions!

— Donald J. Trump (@realDonaldTrump) June 23, 2020