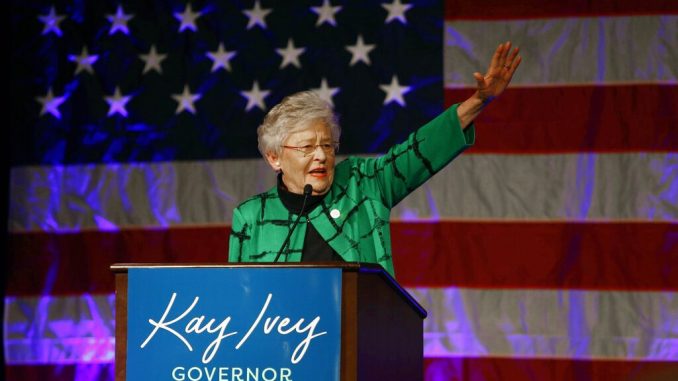 OAN Newsroom
UPDATED 10:40 AM PT – Thursday, June 3, 2021
Gov. Kay Ivey (R-Ala.) was the first female Republican governor to be elected in Alabama and after serving one term, she hopes to come back for a second.
On Wednesday, the 76-year-old Republican announced the news on Twitter. In her campaign video, she states that her administration has created 44,000 new jobs and delivered the lowest unemployment in Alabama history.
Alabama is working again, and the best is yet to come. I'm all in for re-election — will you join me? https://t.co/WWfUU4jQal pic.twitter.com/TdmpTExurW

— Kay Ivey (@kayiveyforgov) June 2, 2021
The governor added that although the recent pandemic has effected everyone, Alabama has managed to build the best business climate in all 50 states.
"The COVID crisis has tested us all," she expressed. "But together we've met the call."
Ivey's video also addressed 19 billion in new business investment with an added commitment for record funding for schools and teachers. She believes faith, resilience and common sense have provided Alabama with a bright future.
"We've got a lot more to do here in Alabama, but there's no step to high for a high stepper," she expressed. "Alabama is working again and the best is yet to come."
Ivey, who was diagnosed and cured of lung cancer during her term, won her first election in 2018 by nearly 20 points and so far only faces one challenger.