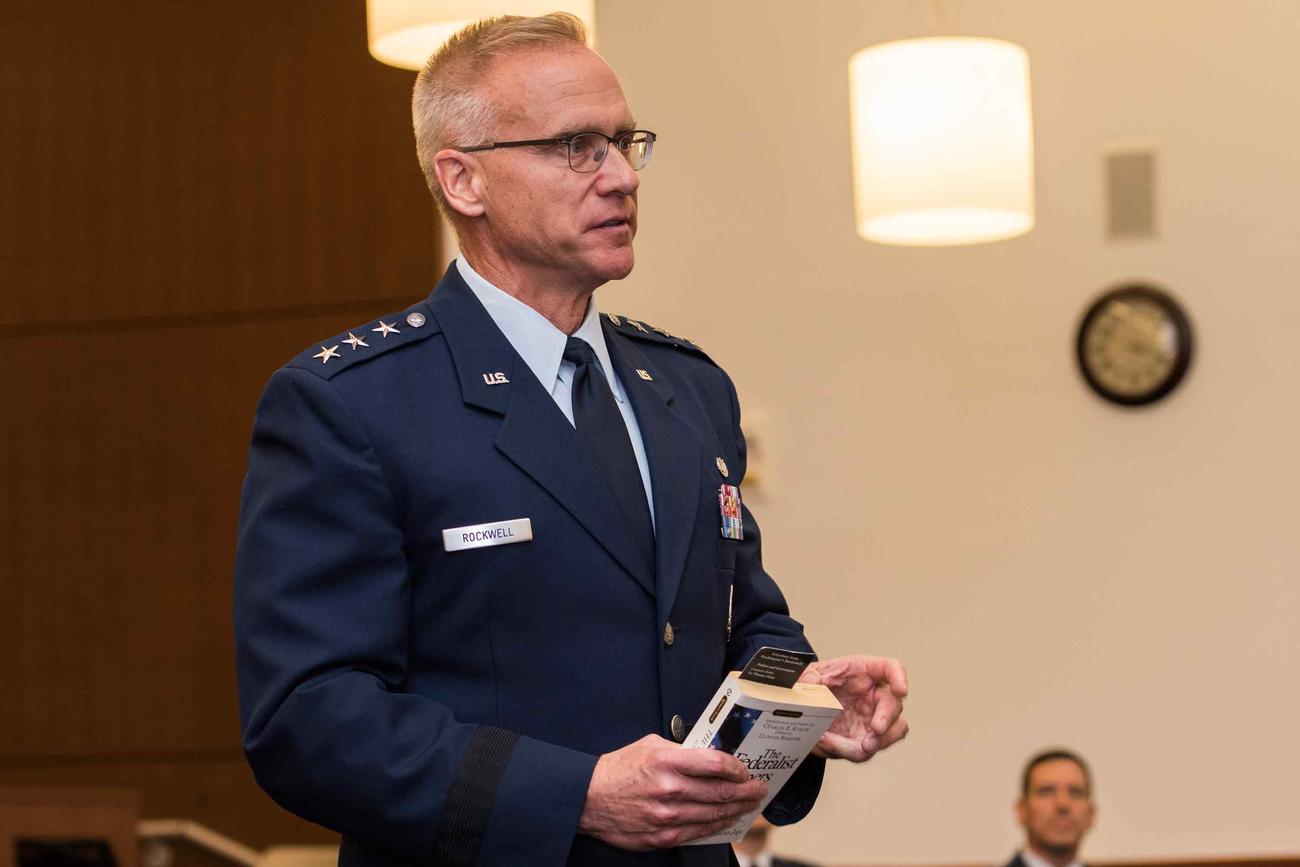 The Air Force's top lawyer is asking leaders and personnel within the Judge Advocate General's Corps for proposals on how to improve the service's justice system, following a call for reform from service leadership.
In a June 3 letter issued to the JAG corps, Lt. Gen. Jeffrey Rockwell, the service's judge advocate general, said the request to submit proposals is a crucial step to "break down barriers and promote conversation, productive debate and further analysis."
Read Next: Air Force Preparing for Furloughed Commercial Pilots to Request Return to Duty
"As our nation grapples with the issue of racial justice and equality, the public will look to the Armed Forces to set the example," Rockwell wrote in the letter, first leaked on the popular, but unofficial Air Force Facebook page, Amn/Nco/Snco. A service spokeswoman confirmed the letter's authenticity, and said the first three slides accompanying it are also authentic.
Rockwell said a broader conversation must be had on the reasons that black junior enlisted airmen are punished at a much higher rate than their non-black counterparts.
"Nothing is more important this conversation," he said. "How can we use military justice statistics to contribute to a wider conversation about valuing our Airmen? What efforts can we make, whether within our JAG Corps or within our Department of the Air Force, to address this disparity?"
According to the accompanying slides, the statistics show that black male airmen "under the age of 25 and with less than 5 years of service receive non-judicial punishments and courts-martial actions at a higher rate than similarly situated white male Airmen," Rockwell said.
Specifically, according to data collected between 2006 and 2019, "black airmen received non-judicial punishments at a higher rate for drug offenses (use or possession of marijuana being the highest) and Absence Without Official Leave [reprimands]" explicitly at the E-5 and below levels, one slide shows. The slide did not provide specific data regarding punishment rates for those offenses for airmen of other races.
According to 2019 end-strength figures, the service had 232,730 white airmen, 47,827 black airmen and 45,291 airmen of other races, the slide showed.
The statistics align with data obtained by the advocacy organization Protect Our Defenders last month showing that black airmen in the most junior enlisted ranks were twice as likely to receive discipline as those from other demographics, a revelation that prompted calls for reform from lawmakers and activists.
The buck doesn't stop with the judicial system specifically, Rockwell said.
"Rather than stopping at legal sufficiency, ask — how did we get here?" he said.
"Are we welcoming all new Airmen into the Air Force family and fostering an atmosphere of inclusion? Are we giving everyone an opportunity to meet — and exceed — standards? We must broaden this discussion beyond Airmen facing disciplinary action," he said.
Airmen may submit their comments anonymously to the newly created Judge Advocate staff's "Race and Justice" feedback website, the general said.
News of the letter comes after Air Force Chief Master Sergeant of the Air Force Kaleth O. Wright and Chief of Staff Gen David Goldfein appeared together in a town hall session Wednesday to answer airmen's questions about race and discuss their concerns.
Wright was the first member of senior military leadership to speak out publicly in a lengthy social media post following the May 25 death of George Floyd, a black man, at the hands of police officers in Minneapolis. Wright's words contained concern for black members of the Air Force, and both Wright and Goldfein called for change and improvement in the service, including a review of the military justice system.
"Air Force leaders need to ask themselves, 'Am I giving this person a fair shot, the same I would give another person?'" Wright said during the town hall Wednesday, adding black male airmen receive punishment "at anywhere from two to three times the amount of their white male counterparts for the same offenses."
"This is about us showing by example how to have a tough, tough dialogue," Goldfein added.
"It's often easier to avoid it. We can't walk by this anymore."
— Oriana Pawlyk can be reached at oriana.pawlyk@military.com. Follow her on Twitter at @Oriana0214.
Related: 'Acting with Their Heart:' How the Air Force Led the Services in Talking About Race
© Copyright 2020 Military.com. All rights reserved. This material may not be published, broadcast, rewritten or redistributed.