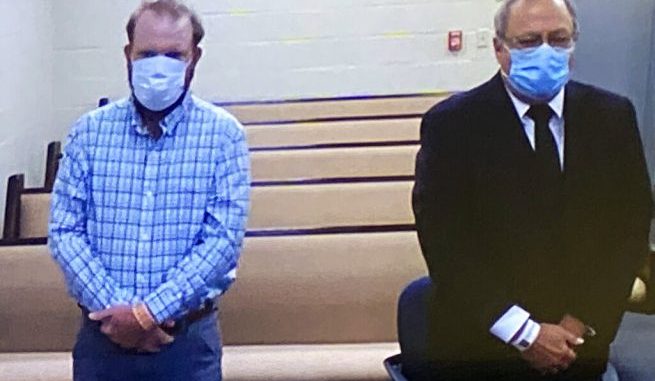 OAN Newsroom
UPDATED 5:12 PM PT — Thursday, June 4, 2020
It's been nearly four months since the death of Ahmaud Arbery, and the men charged with his murder appeared in court for the first time this week.
Father and son Travis and Greg McMichael appeared in court Thursday, while their neighbor William Roddie Bryan waived his right. Bryan is the man who recorded the now viral cell phone video, which captured the final moments leading up to Arbery's death. The footage has sent shockwaves throughout the nation.
Georgia's Bureau of Investigation recently revealed the younger McMichael used a racial slur just moments after he allegedly opened fire over Arbery's body. According to the GBI, the suspect used the same racial epithet "numerous" times in messages found on his phone.
New details also emerged about the pursuit through Georgia's Glynn County.
"Mr. Bryan admits to joining the pursuit of Mr. Arbery," stated bureau official Richard Dial. "He admits to trying to block Mr. Arbery in, trying to detain him several times."
The men have been accused of using a pickup truck to chase Arbery down the street and ram him with the vehicle, which prevented him from escaping. The father and son are now facing additional charges of aggravated assault.
The suspects previously claimed Arbery may have been behind a series of break-ins in the neighborhood, which allegedly led them to attempt a citizens' arrest.
"His statement to the effect is he didn't know Mr. Arbery had stolen anything or not, but he had a gut feeling that Mr. Arbery may have been responsible for thefts that were in the neighborhood previously. I think he actually says gut, his instinct told him that." – Richard Dial, Georgia Bureau of Investigation
Georgia is one of the few states which does not have a hate crime law. However, the Justice Department has said it will be investigating Arbery's death and will decide whether to pursue federal hate crime charges.
All three men remain behind bars as the trial continues. They have yet to enter a plea.