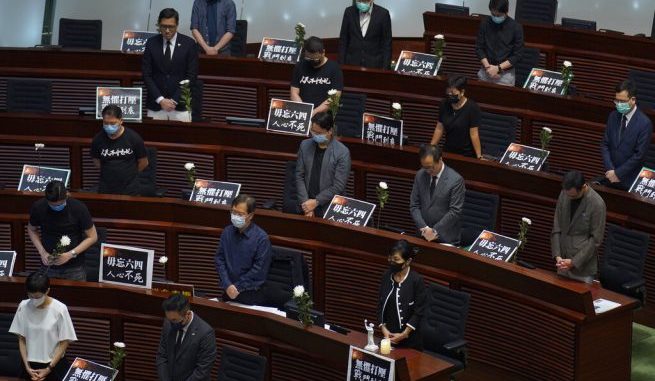 OAN Newsroom
UPDATED 10:21 AM PT — Thursday, June 4, 2020
Officials in Hong Kong officially passed a controversial new national anthem law, which criminalizes any disrespect toward the song.
The passage of the law Thursday coincides with the commemoration of the 31st year since the Tiananmen Square massacre. Residents have said the new law is a major blow to the region's struggling autonomy.
Crowds at Victoria Park have pushed over metal fences around the football pitches and congregated to commemorate victims of the 1989 Tiananmen Square massacre. Photo: May James/HKFP @SiuSinGallery pic.twitter.com/B0dzjTrv4M

— Hong Kong Free Press HKFP (@HongKongFP) June 4, 2020
Two lawmakers even went so far as to throw liquid at the chamber during its passage of the legislation in condemnation of the Chinese Communist Party and its ban on any ceremonies acknowledging the Tiananmen Square protests.
"A murderous state stinks forever and what we did today is to remind the world that we should never forgive the Chinese Communist Party for killing its own people 31 years ago," stated Eddie Chu, a Hong Kong opposition legislator.
Despite the ban, candlelight vigils have been taking place all across the region.