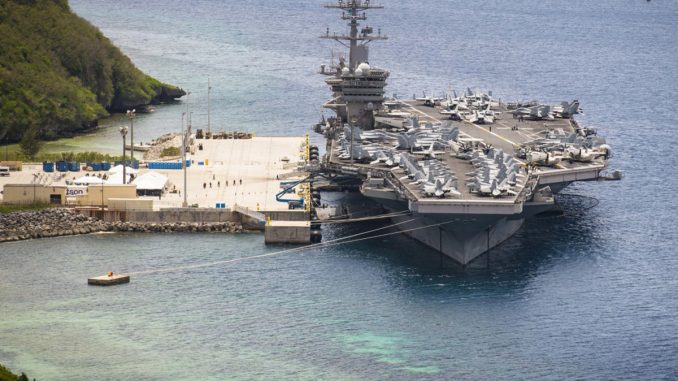 Navy leaders are looking for spots across the globe where ships can pull into port and sailors can enjoy free time without a big risk that they'll bring the novel coronavirus back onto the vessel.
The service has taken extraordinary steps to stem the spread of COVID-19, the illness caused by the coronavirus. More than 2,500 sailors have tested positive for the disease, which swept through the crews of two deployed warships, sidelining both.
Read next: Mattis Breaks Silence on Trump, Denounces Divisiveness as Protests Rage
The outbreak has forced the Navy to change a lot about the way it's operating, and that includes where ships — which have taken a host of measures to keep their crews healthy — should pull into port. Now, leaders are looking at areas that can be considered "safe havens" as the global pandemic is expected to continue for months.
Naval Base Guam will be one of those "safe haven" spots, Vice Adm. Phillip Sawyer, the Navy's operations chief in charge of its COVID-19 response, told reporters Wednesday. The service is also working on safe-haven ports in the Mediterranean Sea and the Middle East, he said.
"We've got a couple of locations that we've identified … so that we can pull in and get [rest and relaxation] for the crew, a chance to relax a little bit — get some burgers, swim in the water, that type of thing," Sawyer said. "But it's a challenge. And it's the next one on our horizon for us to really work through."
The question of whether port calls could leave ships' crews vulnerable to catching COVID-19 was raised soon after the virus outbreak started on the aircraft carrier Theodore Roosevelt in March. The ship stopped in Vietnam that month, after it was clear the pandemic was spreading worldwide.
Officials later said they believe the outbreak began after infected flight crews brought deliveries aboard the ship rather than the stop in Vietnam, but the global pandemic has led to policy changes for ships pulling into or leaving ports.
Sawyer, along with Navy Surgeon General Rear Adm. Bruce Gillingham, recently led efforts to develop service-wide guidance for operating in the "new normal" during the pandemic. New policies are in the works at naval bases around the world, but pulling into foreign ports could prove more challenging.
"The areas under our control [where we have] the ability to create a safe haven certainly is the first step," Gillingham said Wednesday. "Then, how we do that in cooperation with our host and partner nation I think will then follow."
Officials have said the Navy's COVID-19 mitigation measures are expected to be in place "for a lengthy period." Sawyer added that will likely be until a vaccine for the illness becomes available.
The crew of the amphibious command ship Blue Ridge recently experienced a "safe haven" liberty during a stop in Okinawa, Japan, after a record-breaking 70-plus consecutive days at sea. The previous record was 64 consecutive days at sea, according to a Navy news release, which the ship set in 1972 during the Vietnam War.
During the port call, the Blue Ridge crew could access certain areas of the pier and neighboring beach. The sailors weren't allowed to physically interact with anyone outside their crew, including anyone on the base or in the local community.
It's just one of the ways Navy leaders are looking to protect the "bubbles" they're working to build around ships and their crews to prevent another COVID-19 outbreak, Sawyer said.
"Anytime that you're going to allow the threat vector into your bubble, you have to be concerned," he added. "Whether that's logistics coming over from a tanker, a [carrier onboard delivery] flight coming in, or a ship pulling into a port. So we are developing those procedures in our ports as we speak."
— Gina Harkins can be reached at gina.harkins@military.com. Follow her on Twitter @ginaaharkins.
Related: Navy Announces New Rules for Deploying After Ships' COVID-19 Outbreaks
© Copyright 2020 Military.com. All rights reserved. This material may not be published, broadcast, rewritten or redistributed.